Aug. 8 – GHOSTS AND RUINS Book Signing with Ben Catmull
UPDATE:  Signing has been rescheduled for Thursday, Aug 8, 6-8pm. Josh Simmons is unable to make it to Portland for this event.
Join us Thursday Aug. 8th for a delightful evening with Ben Catmull. Welcome Ben as he celebrates the release of his new book, Ghosts and Ruins by Ben Catmull.
Who doesn't love a good ghost story? Ghosts and Ruins is a gorgeous, coffee-table art book is a compendium of old, forgotten haunted houses imagined by artist Ben Catmull, along with the stories and rumors of who haunts them, and why. Each spread features a different haunted house, lovingly and exquisitely rendered in scratchboard on masonite, with a short, nightmare-inducing description of each scene.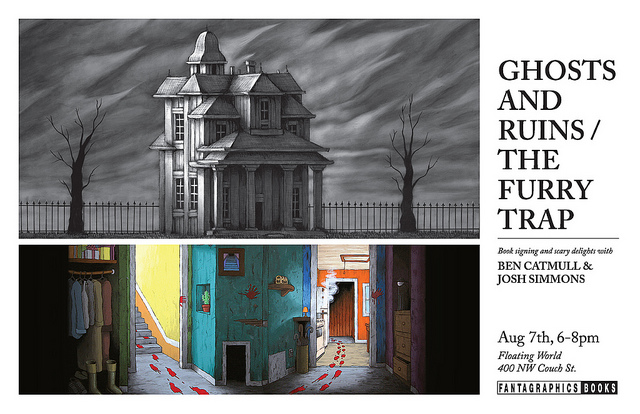 WHO: Ben Catmull
WHAT: Book release and signing for Ghosts and Ruins
WHEN: Thursday August 8, 6-8pm
WHERE: Floating World Comics, 400 NW Couch St
Ben Catmull grew up in Albany, CA and currently resides in Oakland, CA. His previous works include Monster Parade and Paper Theater.