Jan. 15 – Judge Dredd Mega-City Two: City of Courts release party with Ulises Farinas, Douglas Wolk and Ryan Hill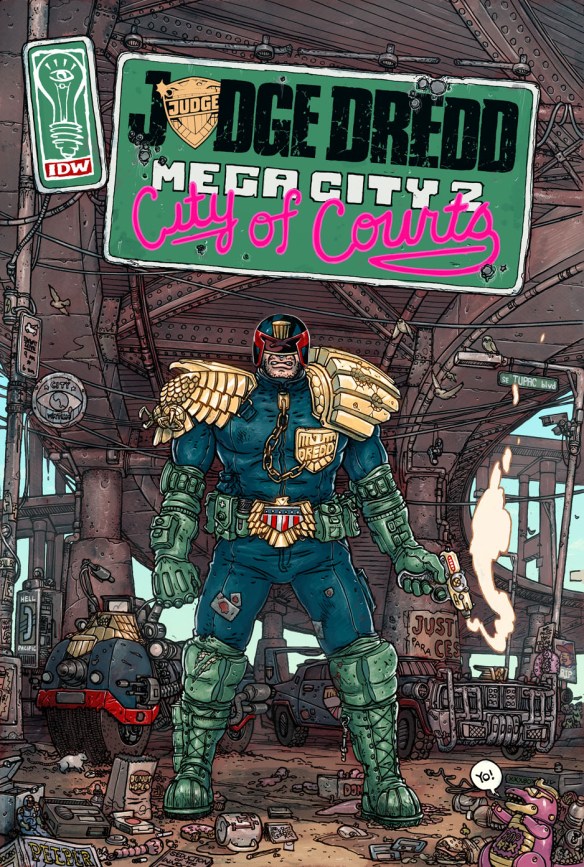 This January, duty calls Judge Dredd to the West Coast, in the destructive new miniseries Mega-City Two: City of Courts! With a truly unique creative team on Mega-City Two, Dredd will go up against the unfamiliar and depraved like never before! Join creators Douglas Wolk, Ulises Farinas and Ryan Hill on Wednesday, January 15th for a book release and signing of the first issue of this awesome new miniseries.
Mega-City Two marks the comics-writing debut of Eisner Award-winning journalist and Dredd aficionado Douglas Wolk (Reading Comics). Art chores will be handled by powerhouse Ulises Farinas (TRANSFORMERS: Heart of Darkness, Catalyst Comix), whose precise linework showcases the oddities of Judge Dredd's world in stunning detail. Rounding out the creative team, colorist Ryan Hill brings the incredible structure in Farinas' work to life.
In the year 2094, a secret mission puts Dredd behind the wheel of a Lawcruiser in Mega-City Two, the West Coast megalopolis that sprawls around what was once Los Angeles. And he's about to discover that the rules—and the laws—are very different in a city where image is everything…
"Ulises, Ryan and I are going to show you a vision of Dredd's world that you've never seen before," Wolk says. "We're yanking the East Coast's toughest lawman out of his element, and plunging him into the bizarre, sunlit depths of post-apocalyptic California. There'll be studio stars and cycle cultists, cartoon predators and beachfront terrors—plus, of course, ultraviolence, musical numbers and the occasional thrill-powered salute to Joan Didion."
"Mega-City Two remains a criminally underexplored facet of Dredd's world," said 2000A.D./Rebellion Editor-in-chief, Matt Smith, "and Doug and Ulises are having a ball crafting an environment, not only geographically, but ideologically the opposite of MC-1. Dredd is the proverbial fish out of water, and a lot of the fun comes from seeing that East Coast mentality clash with the laid-back attitudes of MC-2. Dredd fans shouldn't miss this really quite unique mini-series."
WHO: Ulises Farinas, Douglas Wolk, Ryan Hill
WHAT: Judge Dredd Mega-City Two: City of Courts #1 book release and signing
WHEN: Wednesday Jan. 15th, 6-8pm
WHERE: Floating World Comics, 400 NW Couch St