Aug. 28 – HERO INITIATIVE BENEFIT In Honor of Jack Kirby's 96th Birthday
Wednesday, Aug. 28, would have been the 96th birthday of Jack Kirby, the creator/co-creator of iconic Marvel characters — Captain America, the Fantastic Four, X-Men, the Avengers and Thor, among them. To commemorate the occasion and to celebrate both his creative legacy and his charitable nature, Kirby's youngest granddaughter, Jillian, has undertaken a new fundraising campaign as part of Kirby4Heroes, the venture she launched last year to help generate donations for the Hero Initiative, the only non-profit organization to help comic book creators in need, offering assistance to artists and writers.
Floating World will participate in this fundraiser by donating 10% of all our sales on Wednesday August 28th to the Hero Initiative. We have also invited some local artists to help celebrate the festivities in Jack Kirby's honor. Steve Lieber, Karl Kesel, Ibrahim Moustafa, Robbi Rodriguez, Joelle Jones, Hunter Clark and Ulises Farinas will join us from 5-7. We'll have a donation jar set up and fans can commission some Kirby inspired sketches from these gracious artists at the party.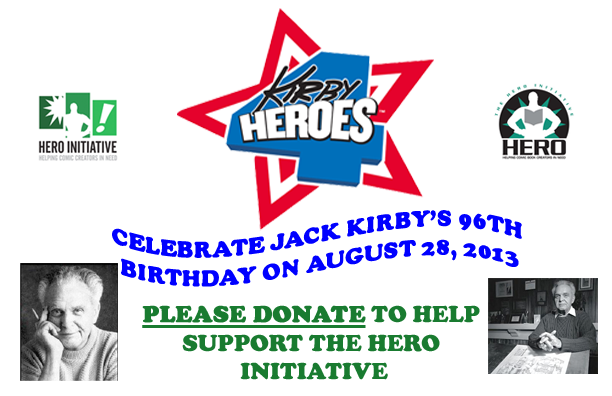 WHO: Steve Lieber, Karl Kesel, Ibrahim Moustafa, Robbi Rodriguez, Joelle Jones, Hunter Clark and Ulises Farinas
WHAT: Hero Initiative Fundraiser in honor of Jack Kirby's 96th Birthday
WHEN: Wednesday August 28, 5-7pm
WHERE: Floating World Comics, 400 NW Couch St
Read what Jillian — whose father, Neal Kirby, last year contributed an essay to Hero Complex about his experiences growing up as Jack's son — had to say about the project in her own words below, and watch the video she created to learn more about how to give to the cause.
I started the Kirby4Heroes campaign as a way to connect with my grandfather, who died the year before I was born. I've grown so much closer to him through my endeavors in this area. I have to admit I'm astounded by him as an artist, family member and just a kind human being. Raising funds for those in the comic book industry in need of financial and medical assistance is a cause my grandfather Jack would have championed. He never turned his back on a person in need.
This year, I am not only working with retailers in California that supported me last year, but have expanded the Kirby4Heroes campaign to include select major retailers throughout the country. In addition to requesting the comic book stores donate a percentage of sales on my grandfather's 96th birthday to the Kirby4Heroes campaign for the Hero Initiative, many retailers have come to me with their own ideas. These include hosting a "birthday party" for my grandfather and auctioning off original artwork, as well as other activities; all proceeds will go to the Hero Initiative in the name of the Kirby4Heroes campaign. The Wake Up and Draw event is also going to occur again this year.

Besides profits produced by the comic book retailers, I am also targeting comic book fans across the nation. In addition, I'm trying to raise awareness to the public, who enjoy the superhero movies based on the characters my grandfather created or co-created, about his legacy. The goal I have set this year is to raise $10,000 for the Hero Initiative, and I have my sights set on continuing to raise awareness, with the big target date being my grandfather's upcoming 100th birthday in 2017.