In anticipation of the long-awaited arrival of a Watchmen feature film, we welcome alt-folk legend, comic book maven and Rough Trade recording artist Jeffrey Lewis with a very special lecture on the virtues of Watchmen the comic book.  Alan Moore's masterpiece of 1980s paranoia and deconstructed superheroes is upheld by many as the world's greatest graphic novel.  Jeff will engage these claims in his own inimitable fashion, using his own senior college thesis written in 1997 as a starting point.
The lecture will feature plenty of slides, but Professor Lewis sternly insists that all attendees must have done their homework and read Watchmen at least once in their lives before showing up to class.
The $7 admission also includes musical performances by Jeffrey Lewis' band and his brother's band, Lesser Lewis and the Twigs.  Local comic shop Floating World Comics will be on hand with a selection of books by Alan Moore.
Need a copy of the book for yourself or a friend?  Get yourself a FREE TICKET to the lecture when you purchase a copy of WATCHMEN at Floating World!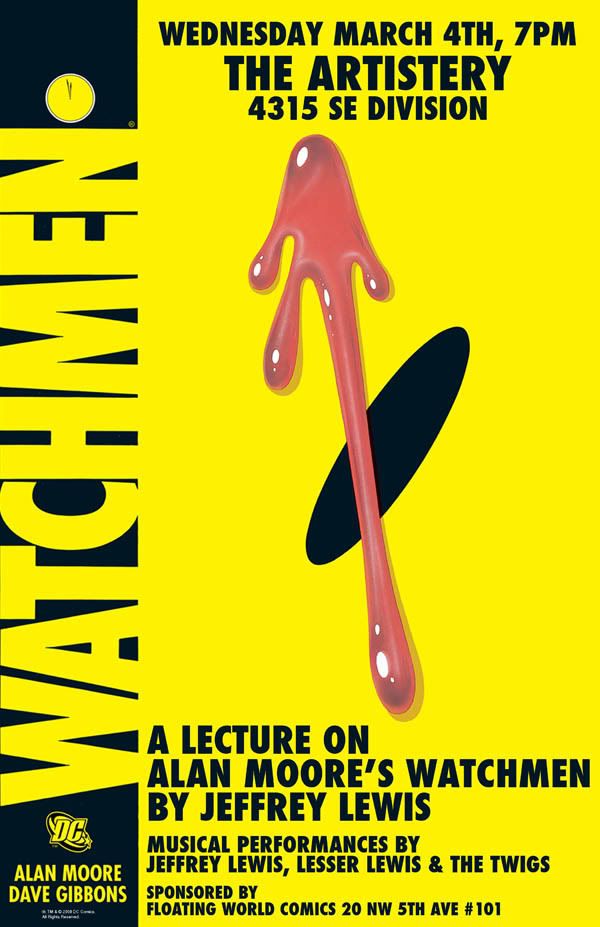 WHO: Jeffrey Lewis
WHAT: WATCHMEN lecture followed by musical performances by Jeffrey Lewis, Lesser Lewis and the Twigs, $7 advance and at door, FREE tickets available at Floating World with book purchase
WHEN: Wednesday, Mar. 4th, 7pm doors, 7:30 showtime
WHERE: The Artistery, 4315 SE Division St.