Join us at The Waypost on Sunday August 11th to celebrate the release of Arthur Magazine No. 35. Arthur co-publisher, Floating World Comics, will be on hand with copies of the new issue and we are thrilled to present a live performance by Michael Hurley, who is featured in the new issue. Stop by for some sweet tunes and pick up the new issue a week before it hits the stands!
Wily folkplayer MICHAEL HURLEY (aka Elwood Snock) has charmed hip audiences for over fifty years now with his timeless surrealist tunes and sweetly weird comics, all the while maintaining a certain ornery, outsider mystique.
In the new issue of Arthur, Longtime Snockhead/Arthur Senior Writer BYRON COLEY investigates this Wild American treasure in an enormous 11,000-word, 8-PAGE feature replete with rare photos, artwork, comics… and a giant color portrait by Liz Devine. Snock attack!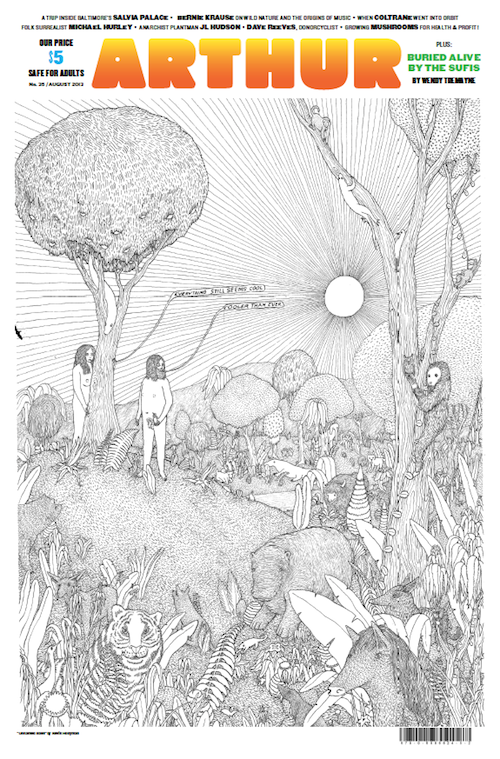 Cover by Kevin Hooyman.
ALSO IN THIS ISSUE:
THE BIOPHONIC MAN
Guitarist, composer and analog synthesizer pioneer BERNIE KRAUSE left the recording studio to find that really wild sound. What he discovered was far more profound. Interview by Jay Babcock. Illustrations by Kevin Hooyman.
GIANT STEPS FOR MANKIND
Stewart Voegtlin on JOHN COLTRANE's startling 1960s ascension from space bebop to universe symphonies. Dual astral/material plane illustration by Beaver.
CHEW THE LEAVES, GET IN THE TANK
Inside Baltimore's T HILL, new kinds of experiments with salvia divinorum are going on. Journalist/photographer Rjyan Kidwell visits Twig Harper, Carly Ptak…and the Wild Shepherdess.
BURIED ALIVE BY THE SUFIS
Swap-O-Rama Rama founder and author WENDY TREMAYNE (The Good Life Lab: Radical Experiments in Hands-On Living) wanted to understand what motivated her life-long anti-consumerism. She found the answer underground. Illustration by Kira Mardikes
GASH, CRASH, ASH
Nobody rides for free. DAVE REEVES on the price motorcyclists pay for being better than you. Illustration by Lale Westvind.
FLOWERS, LEAVES, ANARCHISM
Matthew Erickson on the J.L. Hudson Ethnobotanical Catalog of Seeds
Plus…
* Arthur's new regular column "Come On In My Garden" debuts. This issue, Camilla Padgitt-Coles visits Enumclaw's Norm Fetter at his family's Pennsylvania mushroom farm. They're medicinal!
* The Center for Tactical Magic on demons and drones…
* New full-page full-color comics: "Forgiveness" by Julia Gfrörer and Part 2 of Will Sweeney's "Inspector Homunculus" serial.
* And, of course, the "Bull Tongue" exhaustive survey of underground cultural output by your intrepid guides Byron Coley and Thurston Moore…
WHO: Michael Hurley
WHAT: Arthur #35 release party with live performance by Michael Hurley
WHEN: Sunday August 11, 9-11pm
WHERE: The Waypost, 3120 N Williams Ave
Bio info:
Michael Hurley is an American singer/guitarist, reportedly born December 20, 1941. He also plays the fiddle. For close to 40 years Hurley has lived the life of a modern day Johnny Appleseed: moving about the country collecting great tales, drawing funny pictures, sharing his crazy-beautiful songs and building an unflinching fan base (including, among others, Cat Power and Yo La Tengo) that extends from Portland, Oregon to Portland, Maine and the world over.
http://www.arthurmag.com/
http://www.snockonews.net/
http://www.thewaypost.com/
Tags:
Arthur
Arthur Magazine
Michael Hurley
The Waypost