Bad relationships, interracial dating, cross-faith intermarriage, the endless pangs of love, reality television, Muslim fundamentalism, Crispin Hellion Glover, Internet pornography, Turkish secularism in the era of Erdoğan, the amorous habits of Thomas Jefferson, errant dogs, monogamous cheeseburger tattoos, alcoholics without recovery, 9/11 PTSD, female Victorian novelists, the people who go to California to die.
Jarett Kobek's second novel, BTW, presents the tragicomedy of a young man in Los Angeles balancing a lunatic father, two catastrophic relationships, identity politics, and American pop culture at its most confused. Join the author Wednesday, November 20 for a book signing and reading.
JARETT KOBEK is an American author and essayist living in California. His book ATTA (Semiotexte, 2011) is a fictionalized psychedelic biography of the lead 9/11 terrorist and If You Won't Read, Then Why Should I Write? was published in 2012 by Penny-Ante Editions. His most recent criticism, «Je suis devenu un magicien noir», was published as a catalogue essay by White Cube of London.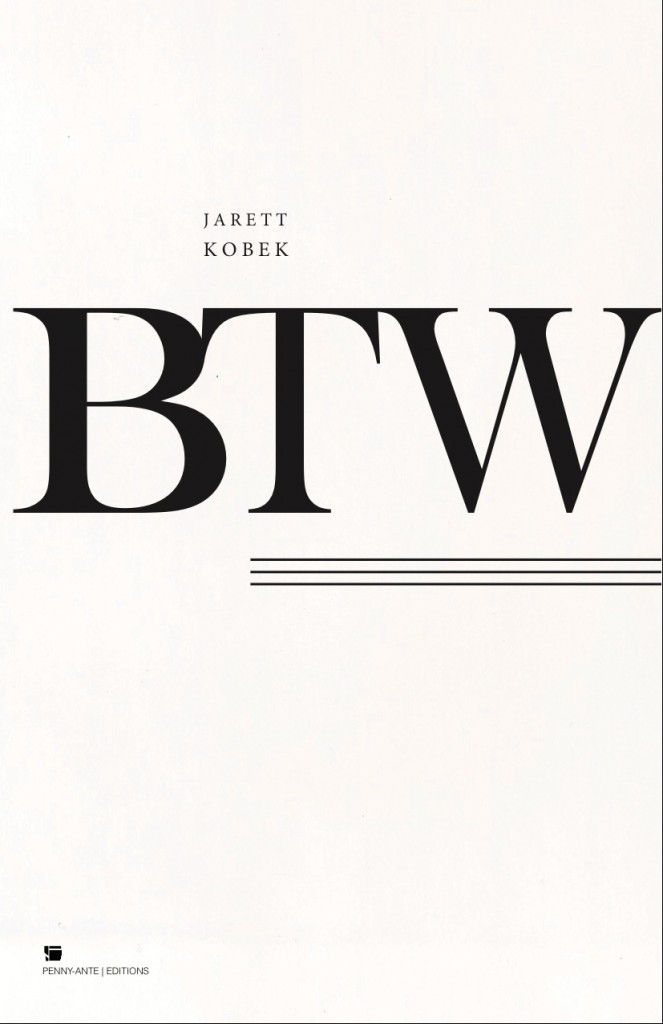 WHO: Jarett Kobek
WHAT: BTW book release and signing
WHEN: Wednesday Nov. 20, 6-8pm
WHERE: Floating World Comics, 400 NW Couch St
ADVANCE PRAISE
"Moving from Williamsburg to Echo Park, Kobek's account of post-NYU life in the aughts (so generic it can barely be lived, yet alone retold) is surprisingly disrupted as primitive identities of religion and race surface among this young, well-connected, smart and otherwise evolved group of friends. In this, his second novel, Kobek's writing continues to impress."
(CHRIS KRAUS)
"Half of BTW is a coming of age novel about the narrator's romantic entanglements, the most significant of which turns out to be with the city of Los Angeles; the other half is the real love story, played out between the narrator and his father. This father, who is by turns hectoring, profane, and tender in phone conversations and voicemail messages from his native Turkey, counts as one of the great comic characters in recent fiction, the sort of eccentric with whom you spend a minute in an elevator but can't ever forget."
(WILLIAM E. JONES)
"In a racially divided Los Angeles, love smacks up against the age-old hurdles of upbringing. He's a hip, handsome Victorian scholar with a crazy Turkish father. She is gorgeous and Muslim, one of two ABB (American-born Bengali) sisters who remind him of Dorothea and Celia Brooke in George Eliot's 19th century masterpiece Middlemarch.
Jarett Kobek's deceptively artless prose responds like a flower to the sunlight of joy as to the cold rain of alienation. BTW is a book that could be as big as Bright Lights, Big City with the same general framework of a sharply experimental novel that yet can boast a big heart, a joke on every page, an overwhelming city magnificently delineated, and a handful of fascinating and all too real characters."
(KEVIN KILLIAN)
"With a brave, droll and sharp eye for the absurdities of life, Jarett Kobek tells us about the struggle to win, to achieve – and the constant losing, wasting and drifting that follows. But BTW is not only a satirical tale of how fluid contemporary life is in the constant search for fame, divinity and true love, it's also a story about a Turkish father and oracle, and his wandering American son. Jarett Kobek is the real deal."
(DORTHE NORS)