Delusional is a 232 page book of comics and drawings by cartoonist Farel Dalrymple. You might have seen them in various anthologies, or posted on the internets, but now they are collected into one beautiful tome published by Adhouse Books. Farel's previous work includes Pop Gun War, Omega the Unknown and the occasional Prophet.
Join Farel December 5th for an art exhibit and book release party at Floating World. Farel will also read a chapter from his eagerly anticipated forthcoming graphic novel, The Wrenchies.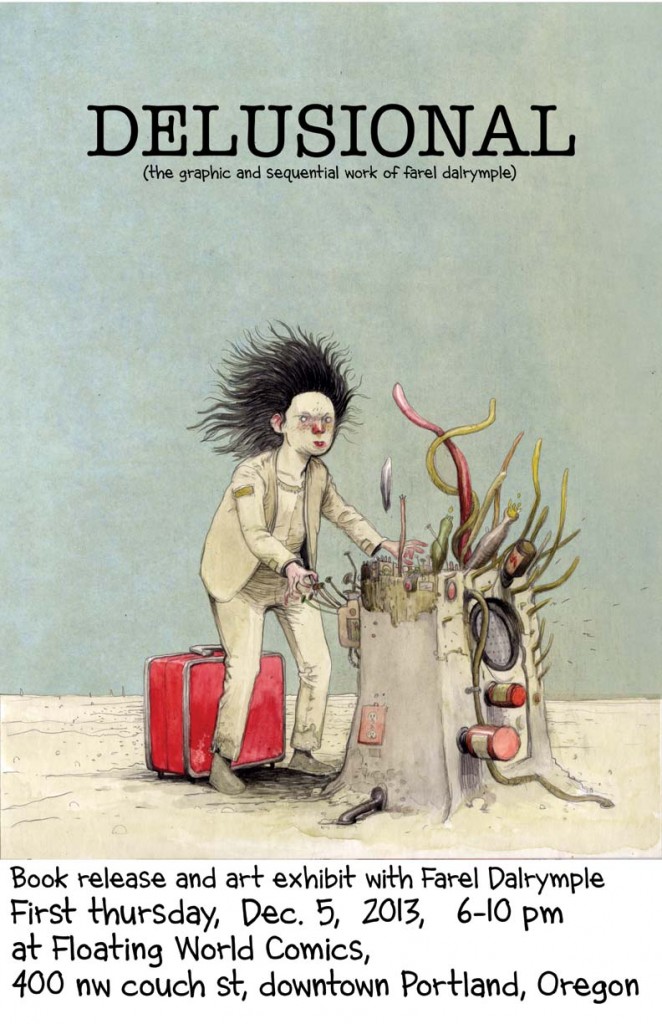 WHO: Farel Dalrymple
WHAT: Delusional book release and exhibit
WHEN: Thursday Dec. 5, 6-10pm, reading at 7pm
WHERE: Floating World Comics, 400 NW Couch St
"Farel Dalrymple is one of the finest young draftsmen to quietly sidle into comics in a long time. And one of the field's most gifted storytellers." — Walter Simonson
Farel Dalrymple's newest book is Delusional, a collection of comic short stories, illustrations, and sketches out now from from adhouse books. Farel is the artist that drew Omega the Unknown (Marvel Comics), for author Jonathan Lethem.  His creator owned comic book, Pop Gun War (Dark Horse Comics) was a Xeric grant recipient and won a gold medal from The Society of Illustrators. Farel is a co-founder of the comic anthology, Meathaus and has worked on a range of illustration and cartooning projects for book publishers, magazines, studios, ad agencies, and comic book publishers such as Marvel, DC, and Image Comics. Farel just completed an original 300-page watercolored comic book story, The Wrenchies, out in 2014 from First Second Books. He is currently residing in Oregon where he working on his long neglected Pop Gun War follow up (pop gun war : chain letter), drawing his Eisner nominated webcomic, IT WILL ALL HURT for studygroupcomics, collaborating on a short story, Palefire with MK Reed and Greg Means, and illustrating the ear farmer, a science fiction love story for Dark Horse Presents with writer Chris Stevens.
Tags:
Adhouse
Delusional
Farel Dalrymple