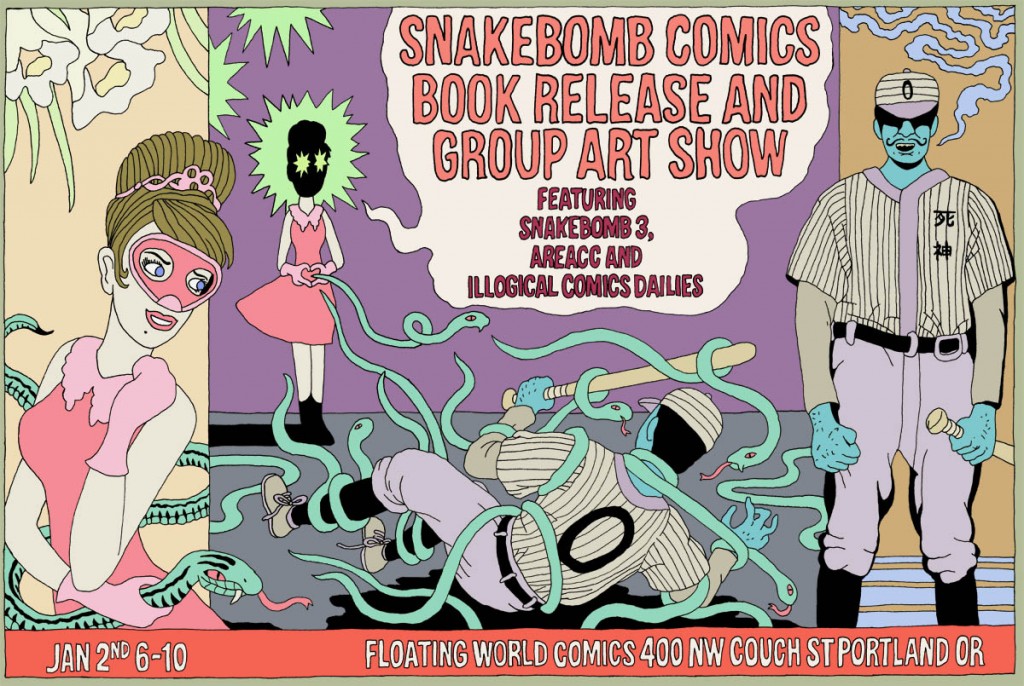 Join us Thursday, Jan. 2 for an evening with the publisher and artists of Snakebomb Comix. We're celebrating with a group art show and triple book release of the Snakebomb Comix 3 anthology, Tom Toye's Illogical Comics Dailies and A. Degen's AREACC reprint!
Snakebomb Comix is a Portland-based comics publisher and risograph print studio founded by cartoonist Jack Hayden. His flagship anthology series "Snakebomb Comix" has seen three issues and over twenty artists since its 2011 debut. The all-new SB3 showcases eight cartoonists drawing comics that range from barbarians battling robots to young punk romance, suburban demon resurrection, mutagenic bar fights and more. Tom Toye's Illogical Comics Dailies is a collection of hilarious, gory, monster-crazy one pagers stealthily drawn at the artist's day job. AD's AREACC has been hailed as a "modern comics masterpiece" and follows the adventures of heroine CoCo as she travels through the dystopian megalopolis Nova Zomia in search of paradise.
Artists featured in this show include SB3 contributors Patrick Keck, Pete Toms, Marc Palm, Leah Wishnia, AD, Jack Hayden, Ryan Dirks, Eric Benton, Tom Toye as well as frequent Snakebomb collaborator Karissa Sakumoto.
WHO: Jack Hayden, Pat Keck, Ryan Dirks, Karissa Sakumoto in attendance
WHAT: Snakebomb Comix book release and art exhibit
WHEN: Thursday Jan. 2nd, 6-10pm
WHERE: Floating World Comics, 400 NW Couch St
Artwork will be on display until Jan. 31st.