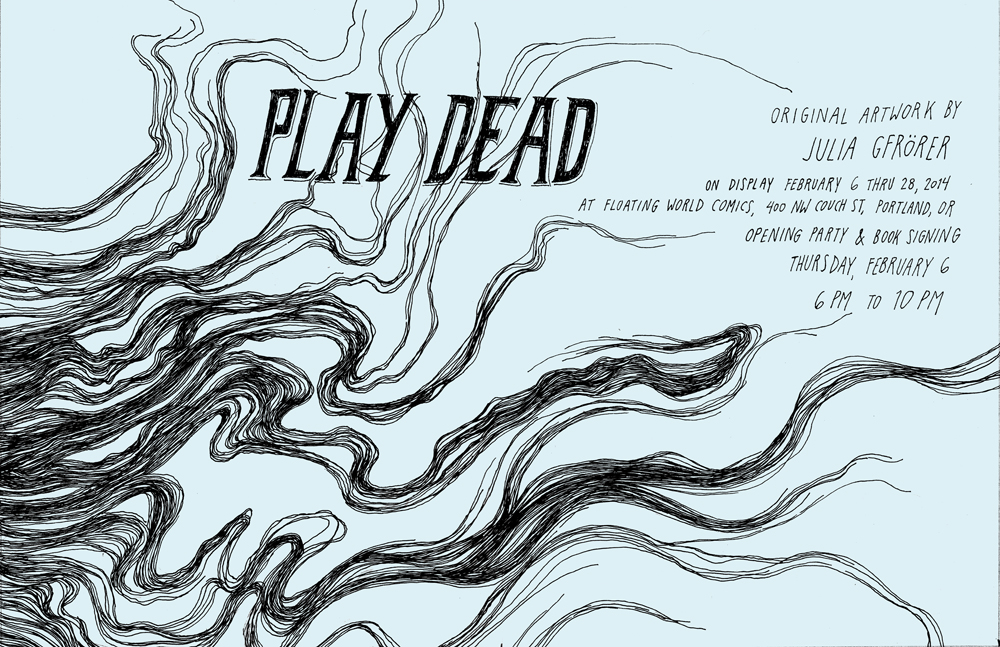 This February, Julia Gfrörer will present an exhibit of original art to celebrate the release of her new book, Black is the Color.
Black is the Color begins with a 17th century sailor abandoned at sea by his shipmates, and as it progresses he endures, and eventually succumbs to, both his lingering death sentence and the advances of a cruel and amorous mermaid. The narrative also explores the experiences of the loved ones he leaves behind, on his ship and at home on land, as well as of the mermaids who jadedly witness his destruction. At the heart of the story lie the dubious value of maintaining dignity to the detriment of intimacy, and the erotic potential of the worst case scenario. Julia Gfrörer's delicate drawing style perfectly complements the period era of Black Is the Color, bringing the lyricism and romanticism of Gfrörer's prose to the fore. Black Is the Color is a book as seductive as the sirens it depicts.
WHO: Julia Gfrörer
WHAT: Play Dead art exhibit and release party for Black is the Color
WHEN: Thursday Feb. 6th, 6-10pm
WHERE: Floating World Comics, 400 NW Couch St
Art will be on display until Feb. 28.
Julia Gfrörer was born in 1982 in Concord, New Hampshire. Her work has appeared in THICKNESS, ARTHUR MAGAZINE, STUDY GROUP MAGAZINE, BLACK EYE, and BEST AMERICAN COMICS. Her last name rhymes with despair, and her heart is black as jet.
Advance Praise:
"Beautiful. Gfrörer has a light touch in finding the yearning and humor amongst life's hard luck and even harder truths. A genuinely romantic and sensitive book." – Sammy Harkham
"Julia Gfrörer is amongst the most promising artist/authors of her generation. Her work is spare and elegant, yet the hand of the artist is always evident in her line. Her characters inhabit cold or desolate environments, often on the brink of inanition or beyond, yet still yearning to love and be loved. Do not be misled by this artist's sylphlike appearance and those great carrot-colored ramparts at her ear. Gfrörer is a powerhouse. Learn to spell her name." — Phoebe Gloeckner
"No one is wedding horror's darkness to an equally black, equally lacerating emotional palette as effectively as Julia Gfrörer…. When coupled with her delicate linework, the fragile physicality of her characters, and her explicit and non-idealized depictions of sex, the effect is gripping and even in our mundane world, ominously familiar." – Sean T. Collins
"Julia Gfrörer's Black Is the Color… is sublimely weird. Or weirdly sublime — probably both." – Nick Abadzis
Tags:
Fantagraphics
Julia Gfrörer