First Thursday in June is the opening night for "Exploded Drawings 2" featuring an all new series of psychedelic illustrations by E*Rock (Audio Dregs) and Cody Brant (Flaspar). Audio Dregs is also releasing a new sampler CD and will continue the celebration with a show at Rotture around 10pm.
Here at Floating World we'll present a special preview screening of our 2009 Floating World Animation Fest around 8pm and there may even be a super secret performance by an Audio Dregs related band!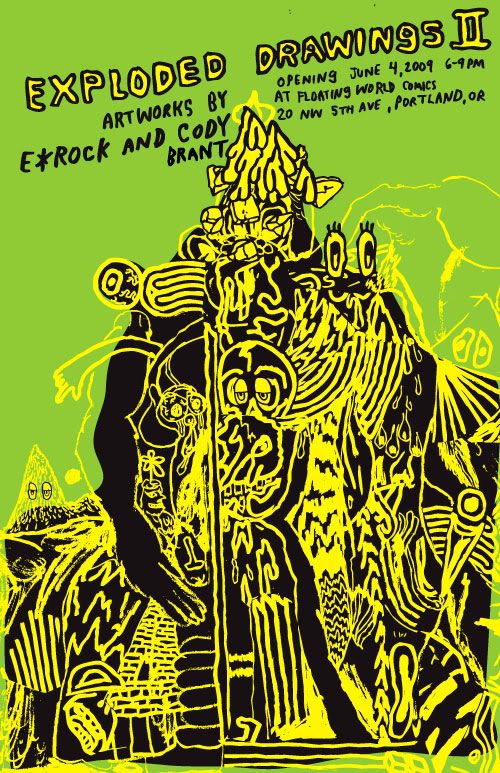 WHO: E*Rock & Cody Brant
WHAT: "Exploded Drawings 2", Animation Fest preview
WHEN: Thursday, June 4th, 6-10pm
WHERE: Floating World Comics, 20 NW 5th Ave #101
E*Rock – Local musician Eric Mast is known for his explosive animations and music videos, and also for running the popular Audio Dregs record label.  We're very proud to present an exhibit of his illustrations and artwork, to coincide with our animation fest this year.
Cody Brant – Cody's band Flaspar has moved and grooved Portland audiences since they moved here from Vegas over a year ago.  He'll be presenting a collection of drawings and collages that he's been working on for the past year.