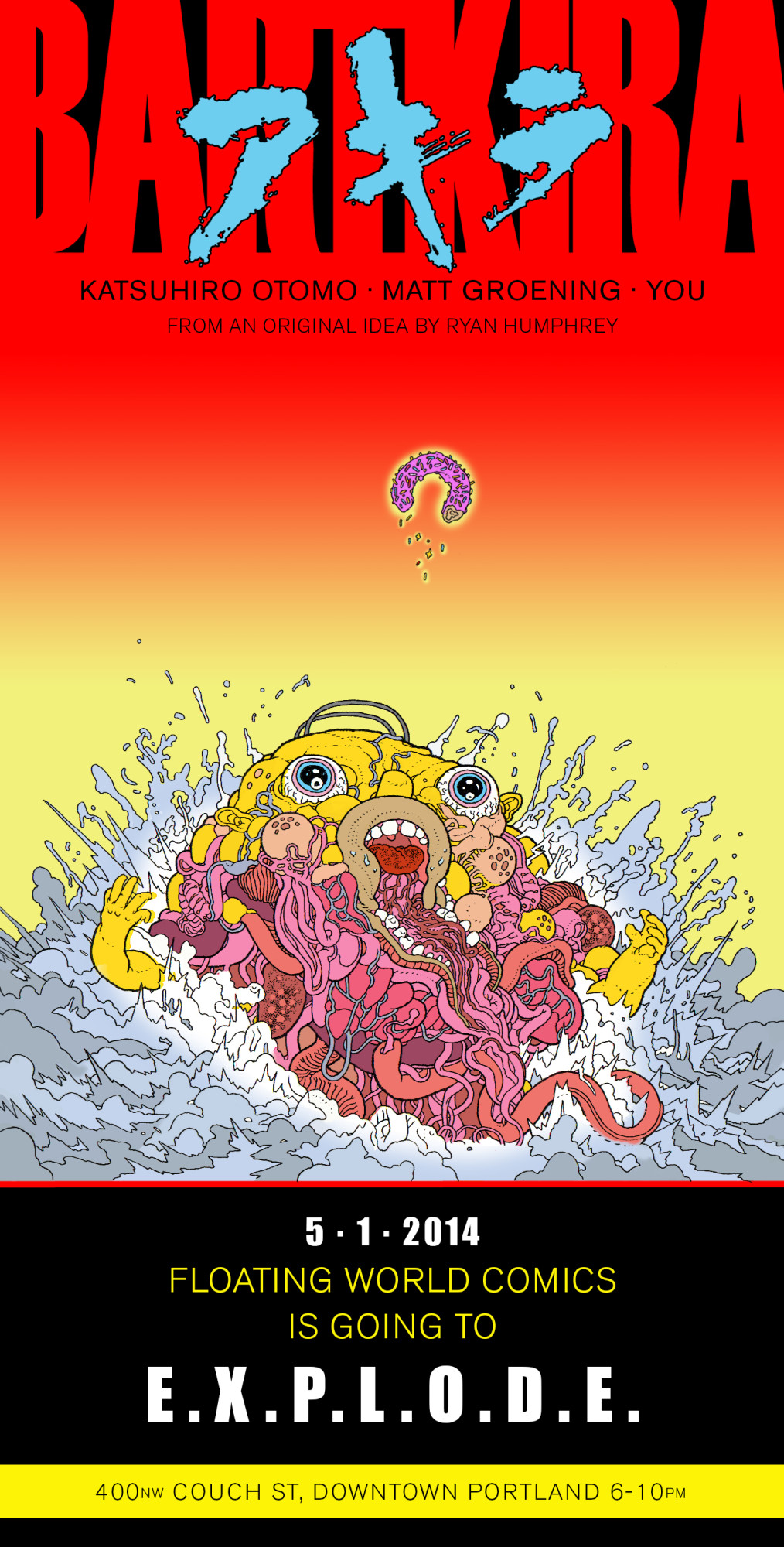 Back in the early 1990's, when anime was still called "Japanimation" and The Simpsons still featured Phil Hartman, no one could have conceived of the concept of Bartkira. Yet 23 years later, in Neo-Britain, artist Ryan Humphrey gave life to the unimaginable. His pages for the mind-bending crossover comic ignited a fire in the mind of comic artist James Harvey, who proposed the impossible:
Recreate every page of Akira using characters from The Simpsons.
It would take 768 artists, each contributing five pages, to redraw the full six volumes of Katsuhiro Otomo's masterwork. A monumental group comic project unlike any other inspired working illustrators, comics professionals, and even some who had never drawn a comic in their lives. Now for the first time, the project that some have heralded as the greatest thing to ever happen to the Internet is here to destroy Floating World Comics.
Come to Floating World Comics at 6:00 p.m. on May 1st for the opening of the Bartkira gallery show and meet members of the Bartkira Committee. Floating World will also debut a limited edition book collecting 100 pages from the Bartkira project as well as a full color gallery section.
BARTKIRA Exhibition Book is now available to order.
Bartkira is intended to be a fan tribute to Katsuhiro Otomo's Akira and Matt Groening's The Simpsons. This project is not endorsed by, nor affiliated with, either creator and does not represent itself as an official publication of any kind. All characters and location depicted herein remain the trademarked possessions of Otomo and Groening.
WHO: Frans Boukas, members of the Bartkira Committee
WHAT: Bartkira book release and art exhibit
WHEN: Thursday May. 1st, 6-10pm
WHERE: Floating World Comics, 400 NW Couch St
PAGE CONTRIBUTORS
James Harvey – harveyjames.tumblr.com/
Danny Hynes – dannyhynes.tumblr.com
Marcel O'Leary – marceloleary.tumblr.com
Michael Kim
Erica Henderson – ericafailsatlife.tumblr.com
Jacob Chabot – jacobchabot.tumblr.com
Cameron Stewart – cameron-stewart.tumblr.com
Ben Ommundson – thethirstydude.tumblr.com
Brenton Barnes – brentonbarnesillustration.carbonmade.com
Luke Novel – hhsmelterkids.tumblr.com
Richie Pope – richiepope.com
Jon Huddleston – jonhuddleston.com
Jason Rainey – raineystuff.com
Cory Tran – gassnake.tumblr.com
Bodie Chewning – bodiechewning.com
Alchemichael – alchemichael.tumblr.com
Frans Boukas – rottenoak.tumblr.com
Tyler Patrick Boss – inkfilledsea.tumblr.com
Ben Jelter – theguture.blogspot.com
PINUP ILLUSTRATORS
Wyatt Carroll – wyattcarroll.com
Jeremy Arambulo – jeremyarambulo.com/
Areil Vergez – blackbrainla.com
Jaime Munoz -flan-jaimemunoz.com
Peter Bloem – unrefined-graphite.tumblr.com
Alexandre Ghostthead – ghosttthead.tumblr.com/
Rawn Gandy – http://rawngandy.com/
Nick Sumida – nicksumida.com
Ryan Humphrey – http://cargocollective.com/withapencilinhand
Tait Howard – http://www.comicbooktakeover.com/
Mark Fionda – markfiondajr.com
Alejandro Bruzzese –  alejandrobruzzese.net
Simone Nemes – eyesmoth.tumblr.com
Rodrigo Bravo – www.rodrigobravo.ca
Tags:
Bartkira