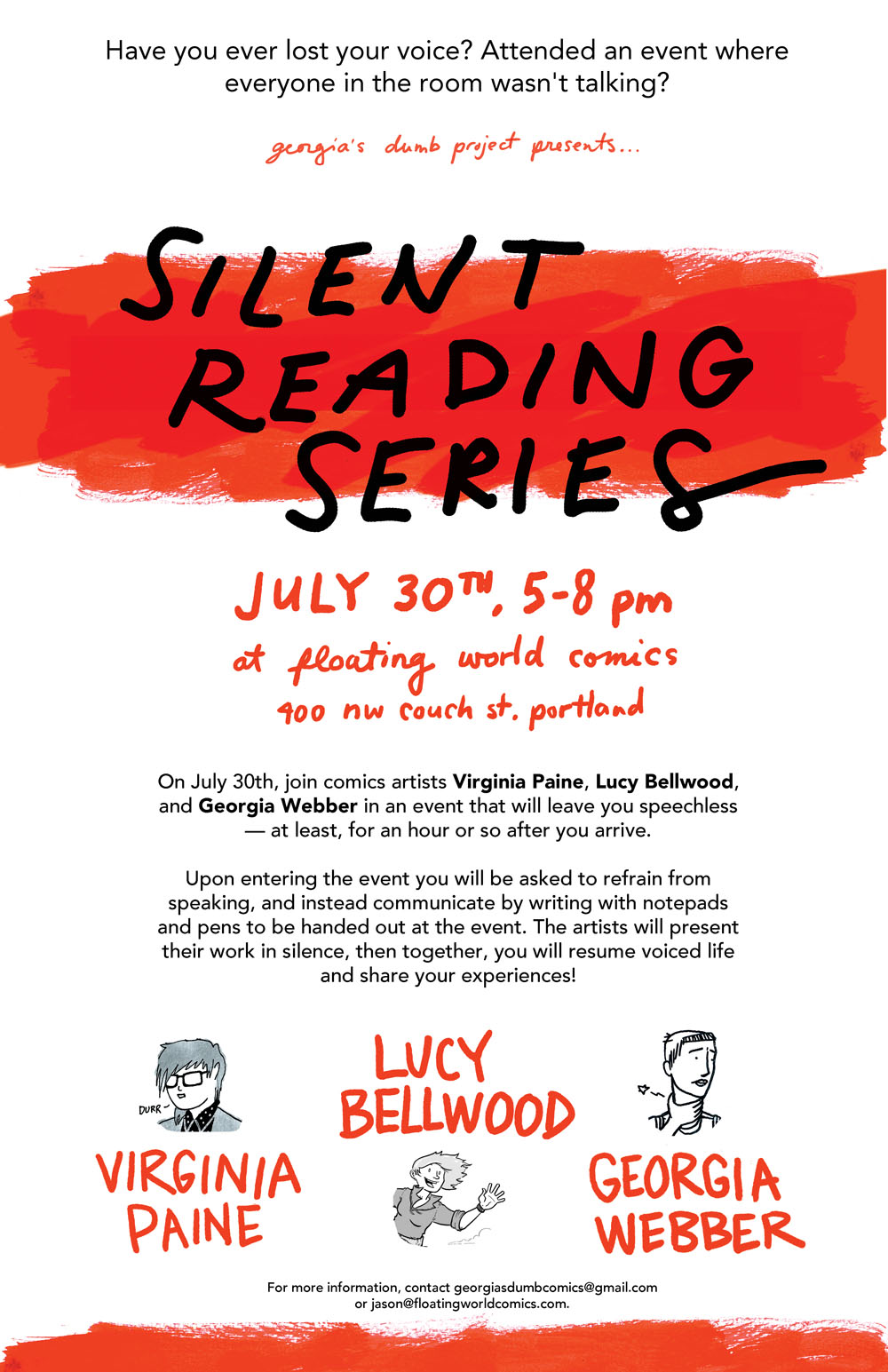 Have you ever lost your voice? Communicated to friends and family without speaking? Attended an event where everyone in the room wasn't talking? On July 30th, join comics artists Virginia Paine, Lucy Bellwood, and Georgia Webber in an event that will leave you speechless — at least, for an hour or so after you arrive. At 6pm the event will begin and you will be asked to refrain from speaking, and instead communicate by writing with notepads and pens to be handed out at the event. The artists will present their work in silence, then together, you will resume voiced life and share your experiences!
WHO: Georgia Webber, Lucy Bellwood, Virginia Paine
WHAT: Silent Reading series begins at 6pm
WHEN: Wednesday July 30th, 5-8pm
WHERE: Floating World Comics, 400 NW Couch St
In 2012, Georgia Webber sustained a vocal injury that has since become a permanent part of her life. At first, she couldn't speak at all without incredible pain. After a few months, she could speak a little bit. Then a little more, and a little more. Now she makes comics, audio work, and performances about the experience; the series is called Dumb. See more at georgiasdumbproject.com.
Lucy Bellwood is a tall ship sailor-turned-cartoonist working out of Periscope Studio in Portland, OR. When not working on her educational, autobiographical sailing comic Baggywrinkles, she contributes to Symbolia Magazine, The Nib, and the all-ages fantasy series Cartozia Tales. Her most recent work is Grand Adventure, a page-a-day travelogue comic from a three-week rafting trip through the Grand Canyon. You can find more of her online at lucybellwood.com.
Virginia Paine is the comics artist behind Milkyboots, a diary comic zine, and The WHYs, a superpowered queer teen spy romance webcomic.  Her work has appeared in Bitch, Bejeezus, Sadie and Big Feminist But.  She also runs the comics micropress Sparkplug Books.