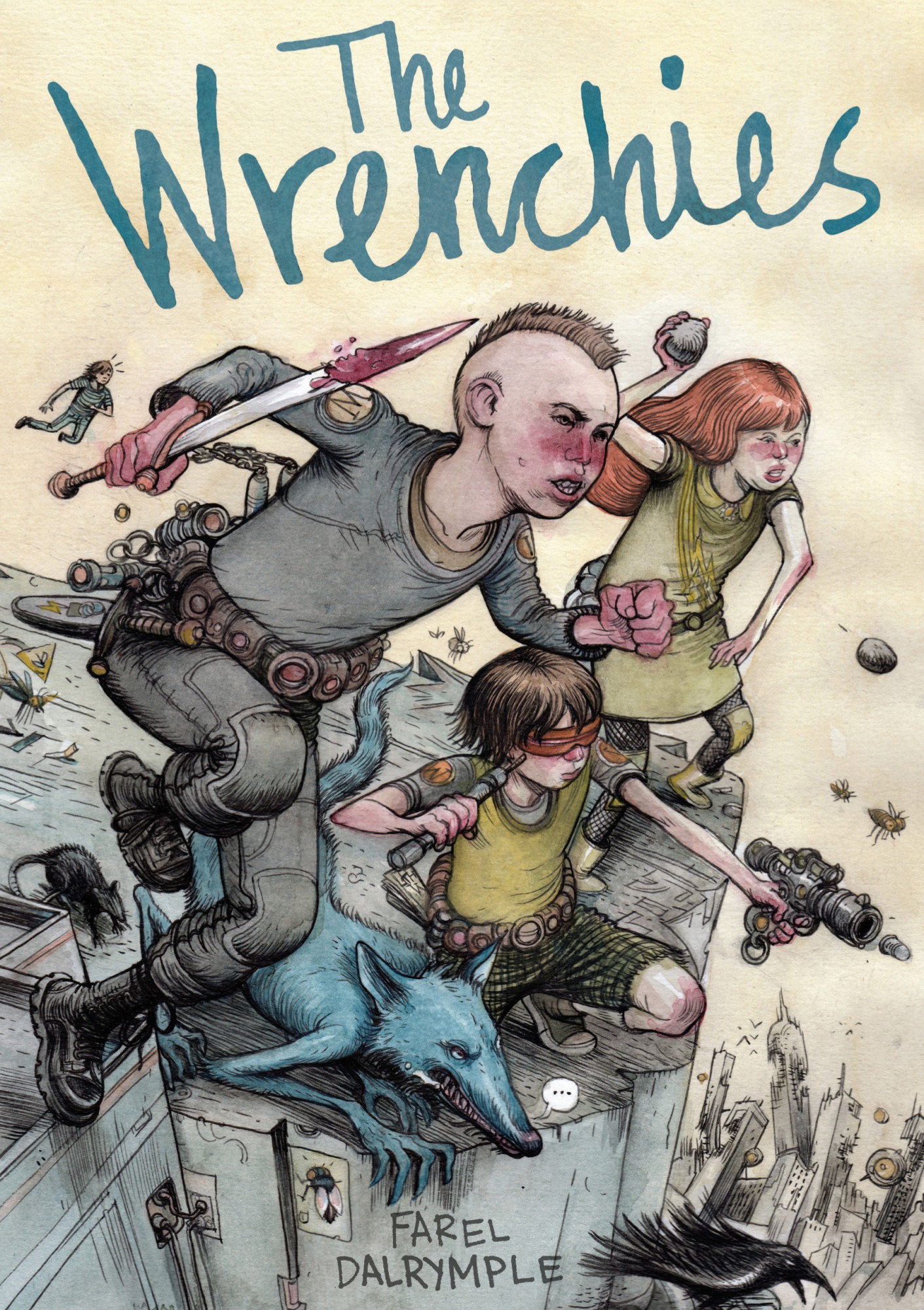 Sherwood and Orson should never have gone into that cave.
That day, a door was opened from our world into a dark and profane realm…and earth's destiny was changed forever.
In this demented future, whatever life remains on earth is oppressed by the evil shadowsmen. Only a gang of ruthless and powerful children called the Wrenchies can hope to stand against them. When Hollis, a lonely boy from our world, is magically given access to the future world of the Wrenchies, he finally finds a place he belongs. But it is not an easy world to live in, and Hollis's quest is bigger than he ever dreamed of.
Farel Dalrymple brings his literary and artistic powers to bear in this sprawling science fiction graphic novel about regret, obsession, and the uncertainty of growing up.
This August First Thursday come celebrate the release of an amazing graphic novel five years in the making, The Wrenchies by Farel Dalrymple. We will also celebrate the latest issue of It Will All Hurt #2, recently published by Study Group. While working on The Wrenchies, Farel started working on this unscripted side project set in the Wrenchies universe. Serialized on the Study Group Comics website, It Will All Hurt is an Eisner nominated, weird, sad, silly, and sketchy, fantasy adventure strip with magic and science-fiction and some fighting action. An exhibit of original artwork from both series will be on display all month, and Farel will attend the opening party to sign books and greet fans.
WHO: Farel Dalrymple
WHAT: THE WRENCHIES & IT WILL ALL HURT #2 exhibit and release party
WHEN: Thursday August 7th, 6-10pm
WHERE: Floating World Comics, 400 NW Couch St
Farel Dalrymple is the creator Pop Gun War (Dark Horse Comics) which was a Xeric Grant recipient and won a gold medal from The Society of Illustrators. Dalrymple drew the critically acclaimed super hero comic book, Omega the Unknown (Marvel comics), for author Jonathan Lethem, and is also creator of the Eisner-nominated It Will All Hurt (Study group comics). He is a co-founder of and regular contributor to the comic book anthology Meathaus and has worked on a range of illustration and cartooning projects. Farel is currently residing in Portland, Oregon but really would rather be living alone in the woods somewhere.
Praise for The Wrenchies:
"Incredible. A deeply personal epic…a book that calls for re-readings." — Craig Thompson (Blankets, Habibi)
"AMAZING. Beautiful drawing and painting, great characters–it's pretty much everything I could want a graphic novel to be." –Mike Mignola (Hellboy)
"I've been a very enthusiastic admirer of Farel Dalrymple from the first moment I was introduced to his wonderful work.  Now here comes his most epic work with THE WRENCHIES!  This book is a stunning and original piece of work.  The characters are richly authentic and their world is simultaneously exciting and horrific, filled with hauntingly beautiful detail.  THE WRENCHIES is a masterpiece that will knock yer socks off!" –Michael Allred (Madman, Silver Surfer, The Atomics, Red Rocket 7)
"Tremendously masterful, as to be expected of Farel Dalrymple. A work of art with fevered imagination and lush nightmares that should haunt every reader."–J H Williams III (Sandman, Batwoman, Promethea)
"The years of love dumped into The Wrenchies is apparent on every page, every panel a work of high art. Lush worlds and fascinating characters drenched in originality and childhood nostalgia. The story is heartfelt, wildly imaginative and engrossing as Farel achieves something all too often lost in comics–pure fun. The Wrenchies is a game changer. I couldn't love anything more." –Rick Remender (Black Science, Deadly Class)
Tags:
Farel Dalrymple