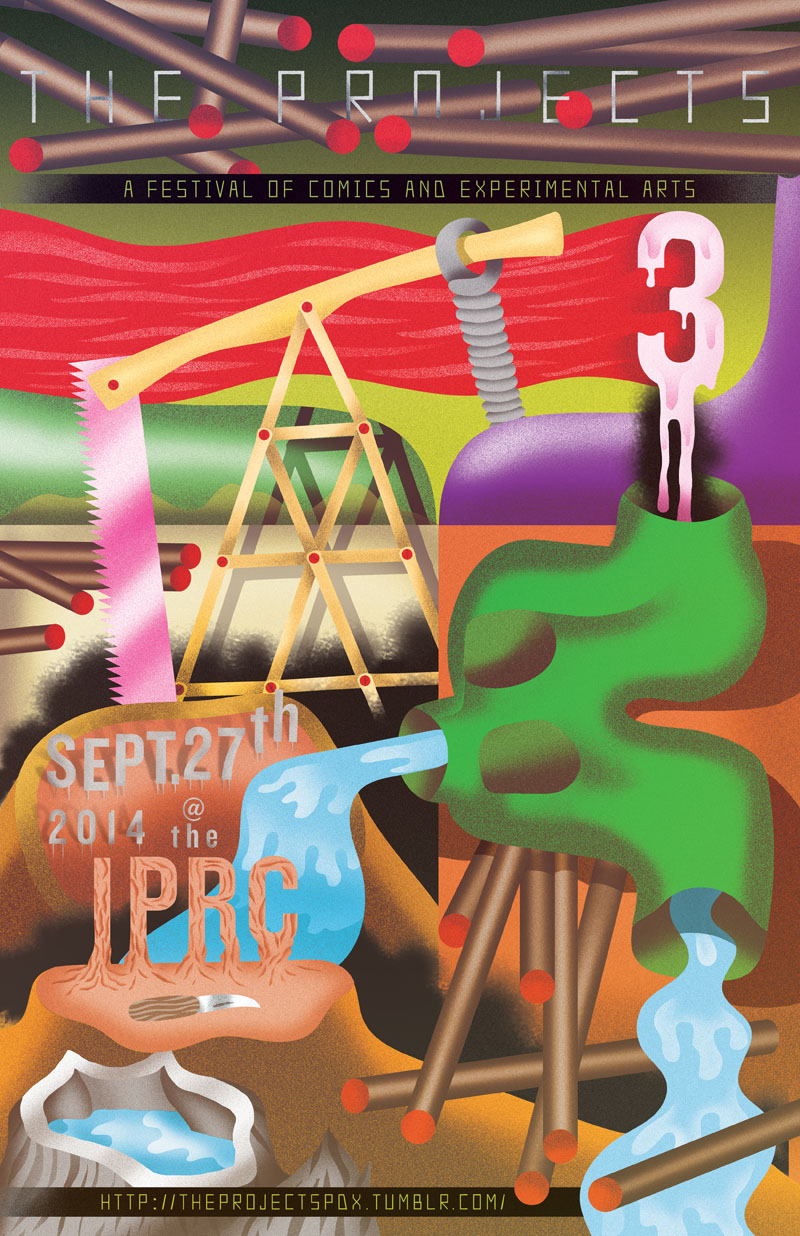 4 days of workshops, exhibitions, performances and collaborative art happenings at the IPRC and other venues in Portland, OR, September 25-28, 2014.
http://theprojectspdx.tumblr.com/
http://theprojectsnews.tumblr.com/
SPECIAL GUESTS: Peter Burr, Asher Craw, Lori D, Manuel Donada, e*Rock, Leif Goldberg, Kevin Hooyman, Luke Ramsey, Chris Taylor, Connor Willumsen, Johnny Woods, and more to come!
* * * * * * * * * * * *
THE PROJECTS brings together experimental artists from comics, performance, music, animation, and other fields for a free four-day festival of workshops, exhibitions, performances, collaborative projects, and intensive creative mayhem. Guest artists are given a short residency to make a site-specific piece or curate a collaborative workshop, and visitors get to work alongside some of the most outstanding artists in independent comics. The festival is oriented toward creative process and idiosyncratic expression, leaving behind the festival model of comics as commerce.
This year's festival kicks off on Thursday September 25th with an international art exhibit at Floating World Comics featuring work from visiting comics artists. Friday night moves to S1, Portland's newest underground exhibit and performance space. Undervolt artists Johnny Woods and e*Rock will perform and Peter Burr will construct his incredible VIDEO CUBE – a 4-channel, 360 degree, immersive sensory experience. Saturday is the main event at the IPRC. Free and open to the public, there will be a number of activities and workshops for visitors to join in. Leif Goldberg will lead a silkscreen book workshop, Luke Ramsey will paint a new mural, and Free Spirit is programming bands and performances in the beer garden on the rooftop. On Sunday we'll have a free book fair at the IPRC with visiting and local artists, followed by an awesome after party at Holocene presented by Gridlords. Their lineup includes – Tom Lechner, Smilax, Emily Nilsson, Michael Horwitz, Charlie Daugherty, Wally Catton, Johnny Woods & Gummi.
The Projects is partnered with a new breed of European comics festivals that put creativity and connection at the forefront: Škver in Mali Lošinj, Croatia; Novo Doba in Belgrade, Serbia; Crack! in Rome. These festivals create an intimate and non-commercial environment for artists from different cities, countries, and generations to work together and share ideas. The emphasis is to make art, experiment, and play, and to go a little wild together. Since we first experienced these sister festivals in the Balkans a few years ago, we knew we needed to start something like this in Portland.
This festival is made possible by a grant from the Regional Arts & Culture Council, the help of our volunteers and all of our sponsors: Batdorf & Bronson Coffee Roasters, Floating World Comics, Gallery Homeland, IPRC, Ninkasi Brewing, S1 Gallery, Holocene and SCRAP.
Tags:
The Projects