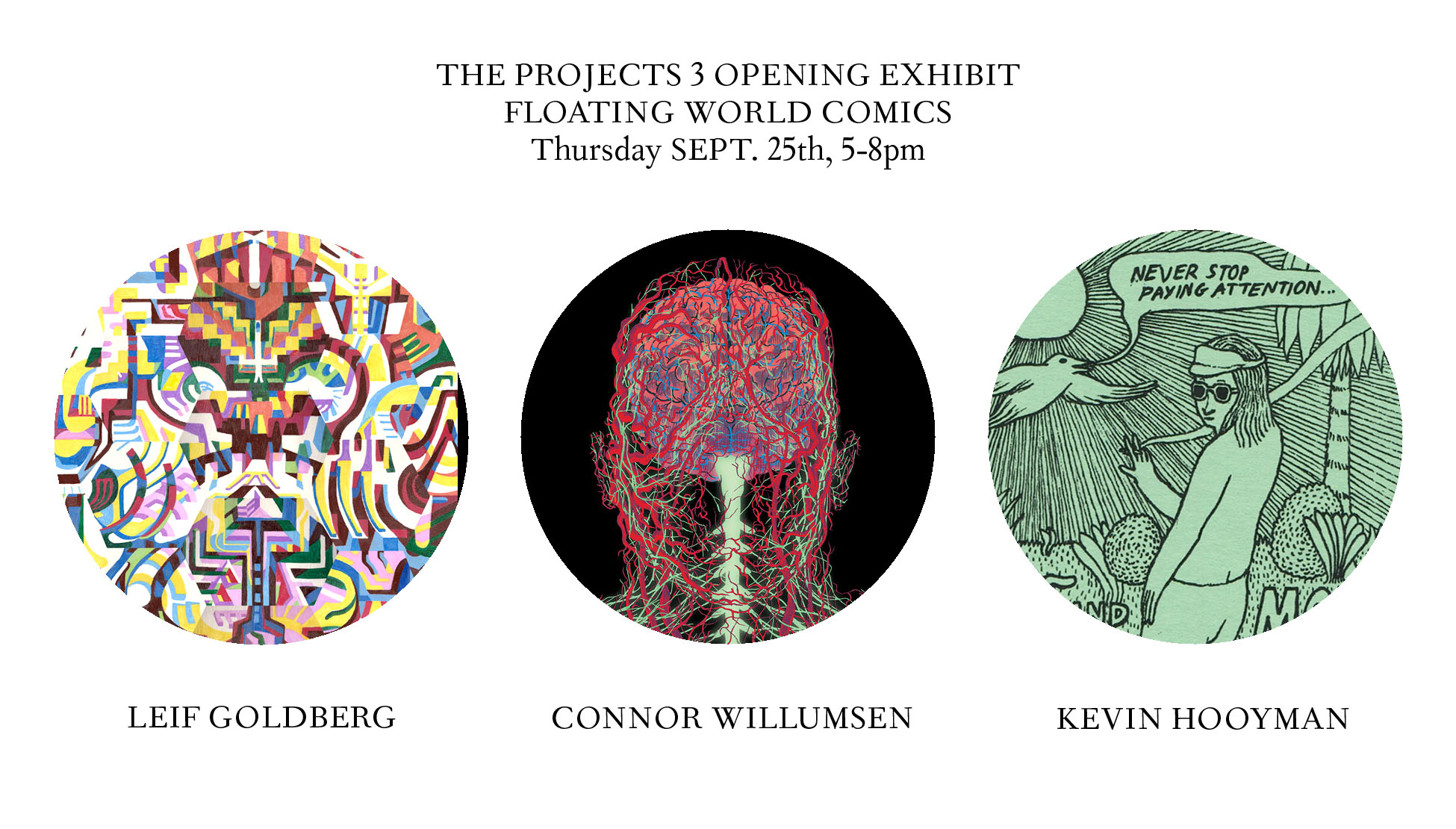 THE PROJECTS 3 festival kicks off Thursday night with a group art exhibit and party at Floating World Comics. Join us from 5-8pm to meet visiting artists Connor Willumsen, Kevin Hooyman and Leif Goldberg and to see an exhibit of their original artwork!
Connor Willumsen is a very talented and original comics artist/designer from Alberta. He did a few superhero books for Marvel, but then quit and tried to have his name removed from an issue of Wolverine when they messed with the original creative agreement. Everyone will agree this is better if it frees him up to work on his own stuff as well as design awesome packages for Criterion DVDs.
Kevin Hooyman's beautifully detailed artwork is filled with the lushness and vibrancy of a psychedelic experience. His artwork has been featured in Arthur Magazine, various album covers, a Wes Anderson movie, and a number of self published books. His latest comic series, Conditions On The Ground, epitomizes his trademark humor and modern philosophies over the course of 10 gorgeous issues, which will we will be publishing as a book next year.
Leif Goldberg lives and works in Vermont with his family. Leif was a member of Forcefield and a resident of Fort Thunder. Since 2002 he has been producing a new comic series called National Waste. He is also a skilled printmaker and his animations have screened at festivals across the world. It is an honor to host Leif, Kevin and Connor at Floating World at this festival!
WHO: Leif Goldberg, Kevin Hooyman, Connor Willumsen
WHAT: Group art exhibit and party
WHEN: Thursday September 25th, 5-8pm
WHERE: Floating World Comics, 400 NW Couch St
Tags:
The Projects