"There are no civilians in Baghdad."
-Lt.-Col. Crowley
Just read all 10 chapters of Anthony Lappe and Dan Goldman's online comic, SHOOTING WAR, in one easy sitting. Takes place in our near future, 2011. There's not much in this futuristic world that would be totally implausible. America is still occupying what's left of Iraq, survivors of the civil war are uniting against the infidels that started it, gas is $10 a gallon, Iran has nukes, global warming is creating hurricanes and sandstorms in the Gulf region, and President McCain continues to make progress on The Great Wall of Texas.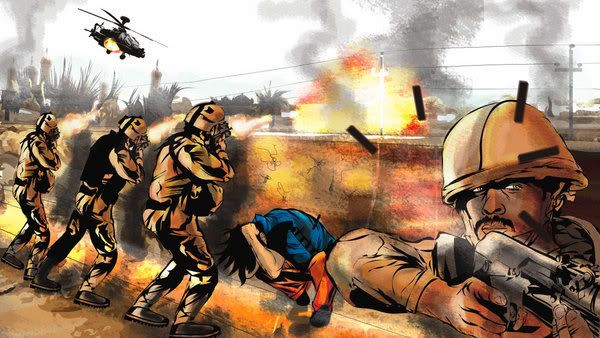 The story is told from the point of view of a liberal blogger/journalist, Jimmy Burns, who goes from online blogger to network embedded journalist overnight when he happens to catch the bombing of a Williamsburg Starbucks live on his new digital camera with automatic weblogging upload features. The footage is picked up by the GNN network, and they subsequently give Burns a three year contract to report from Iraq.
The plot is well thought out and covers a lot of territory in the first 10 chapters, which would probably translate to around 40-80 pages of story(the comic has just been picked up by Warner Bros. and will be released as a hardcover in 2007). There are great sci-fi observations on technology and society that are interesting because they're going to come true sooner than later. The story is sensational but believable, and presents an interesting take on the way our news will be presented in real time due advances in technology; how it will be commodified by some, spun by some, and how it will be received by the public, who are also blogging and responding in real time.
Anthony Lappe has clearly done a lot of research which has informed the plot points and battle scenes and also added very interesting details to his characters. As editor for the online news source GNN (Guerrilla News Network, not to be confused with the Global News Network in Lappe's comic) Lappe co-wrote 'True Lies', a book that focuses on stories ignored or censored by mainstream media and also produced the Showtime documentary: BattleGround – 21 Days on the Empire's Edge.
Click on the link above to read the comic at smithmag.us.