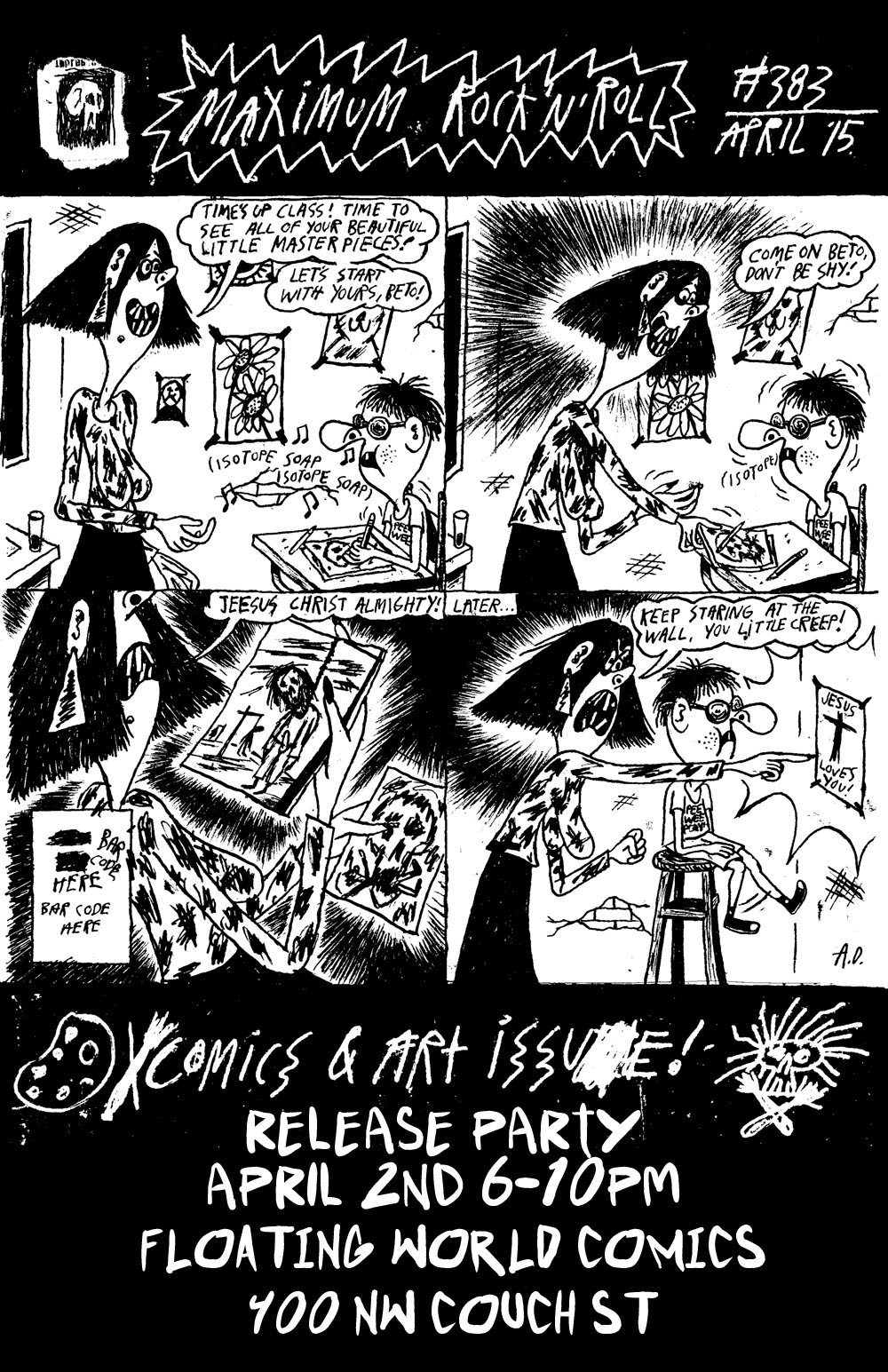 It's time for Maximum Rocknroll #383 (April 2015) the Comics and Art special issue, guest coordinated by famed MRR columnist Monsieur Alex Simon.
Featuring a cover by everyone's favorite Mexican miscreant, Abraham Diaz, we threw over the written word for a full-on visual extravaganza, featuring art by Jim Shomo, Sara Abruña, Reuben Storey, Teodoro Hernandez, Tara Bursey, Payton Lower, Diane Maltesta, Andrew Scully, Ben Fordree, Juarma Lopez, J.M. Bertoyas, Shiva Addanki, Eugene Terry, Grimoire, Emma Kohlmann, Jack Hayden, Hector Sudor, Chico Félix, Ivan Brun, Robin Wiberg, Anna Vo, Alexander Heir, Craoman, Christopher Nhdiystrec, Anna Haifisch, Luca Tetraite, Maren Karlson, Suzy X, Matt Crabe, Jeffrey Mahannah, Freak City, Heather Benjamin, Dustin McChesney, Julien Dupont, Laura Pallmall, Ruben Dahlstrand, Nathan Ward, Mar Estrema, Sapiens, Mengzhu Fu, Karissa Sakumoto, Pyotr Mulinov, Jyriki Nissinen, Luiz Berger, Luiz Gustavo Vargas, Yecatl Peña, Zoe Burke, Annie Mok, Marissa Paternoster, Emma Maatman and Rudy Loewe.
Floating World will host an art exhibit and release party with local Portland artists – Reuben Storey, Andrew Scully, Jack Hayden, Anna Vo and Karissa Sakumoto! We will also have artwork by Annie Mok, Laura Pallmall and other artists on display.
WHO: Reuben Storey, Andrew Scully, Jack Hayden, Anna Vo and Karissa Sakumoto
WHAT: Maximum Rocknroll #383 release party and art exhibit
WHEN: April 2nd, 6-10pm
WHERE: Floating World Comics, 400 NW Couch St
Artwork will be on display until April 13th.
Maximumrocknroll is a widely distributed monthly fanzine dedicated to supporting the underground punk rock scene. MRR's long history and large, obsessed, all-volunteer staff has made its punk rock coverage the most consistently up-to-date and reliable around. MRR maintains the values of the punk underground by remaining independent and not-for-profit.