This month Floating World Comics presents the works of comics genius Jonathan Hill, painter Brent Wear, and animator/illustrator Edward Juan.
First up is Jonathan Hill, mix tape lover, comic drawer, matter eater lad. When asked, Jonathan said he hasn't been too busy this past year. But I checked, and that's a lie.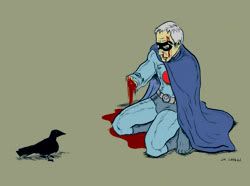 He's published new mini-comics with his friends at Brown Paper Bag, produced a quarterly comic for the Viet Nam Literature Project, worked on a vegan cookbook for Sweetpea Baking, silkscreened t-shirts and posters, and designed a poster for our store! Come check out his artwork and his comics. He likes vegan banana chocolate chip muffins. Or at least, I do.
Next up is Edward Juan, animator at Laika Studios here in Portland, Oregon.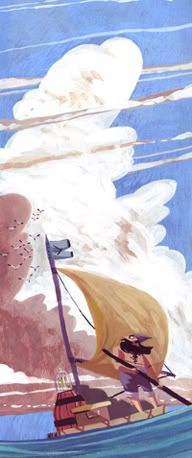 His easy breezy style reminds me of Craig Thompson mixed with Scott Morse illustrating for the New Yorker. His resume includes clients like Nickelodeon, Plymptoon Studio, and Marvel Comics. Expect to see some cool samples from his sketchbook, including nuclear powered scooters and socialites on the go. And he's going skydiving on Saturday so this might be your last chance to say aloha.
Finally we've got more amazing paintings by Brent Wear.
Maybe you've seen his work elsewhere in town and LOVED IT and this is a perfect opportunity to see more, shake the man's hand, etc… Or maybe this will be the first time. There is something honest and true about the plight of humans and nature. But it is also bright and humorous, even when mired in swamp, or exploding. Bird Pants Man said he will try to make a personal appearance.