PublishersWeekly reports from the SanDiegoComicCon:
Dan Clowes has signed a deal with Jack Black Productions for his Deathray series. "Jack Black has always been a supporter of comics," says Clowes. The deal to option "Deathray" was signed this past Tuesday, July 18.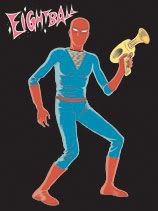 "Deathray" deals with a teen-age superhero and the same person in middle age. " I found that I liked working with the older man more than with the teen-age boy," he said, but those stories aren't written yettheyll be in the script. Clowes said, "I don't want to talk about what exactly will be in the script, as I haven't started writing it yet." He plans to begin writing next week.
Clowes also recently turned in a script commissioned by Scott Rudin, based on the true story of a group of teenage boys who spent eight years reshooting the movie Raiders of the Lost Ark, scene by scene. "We were talking about it for about a year before I actually started," Clowes said.