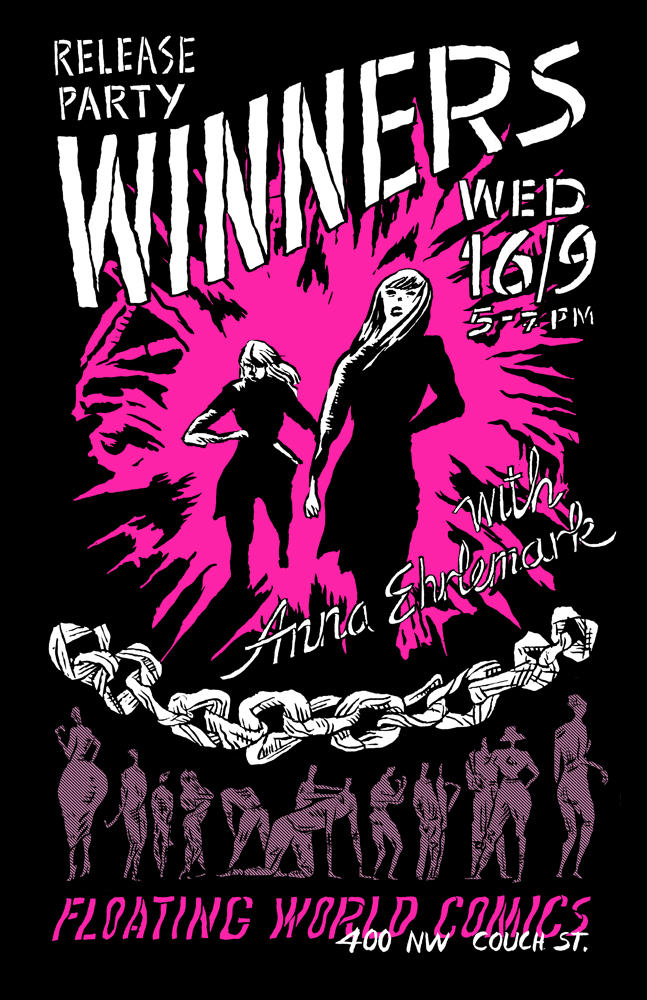 This September we are excited to release our newest publication, WINNERS, by Swedish artist Anna Ehrlemark. Anna Ehrlemark is well known in Eastern Europe for her unconventional, twisted narratives and her striking visual style. Her comics explore feminist, queer, anti-capitalist themes and she has been published by the Balkan collectives Stripburger, Fijuk, and Komikaze. WINNERS collects 128 pages of her stories about family, nostalgia, chance, witchcraft, sex, abstinence, economy, and revenge. Science fiction in a future that is already old.
This release party and original art exhibit at Floating World is the beginning of a short tour Anna will be taking to celebrate her new book. She will also be a special guest at SPX (Sept. 18-19) and Novo Doba Festival in Belgrade (Sept. 21-24).
WHO: Anna Ehrlemark
WHAT: Winners release party and exhibit
WHEN: September 16th, 5-7pm
WHERE: Floating World Comics, 400 NW Couch St
Anna Ehrlemark is a comic artist, illustrator and linguist. She lives in Gothenburg, Sweden, but used to draw and work out of Ljubljana, Zagreb and Belgrade. Her work has been published across Europe, notably in Croatia, Slovenia, Serbia, France and Sweden. She is one of the hands behind the Novo Doba festival in Belgrade, Serbia, and a spider in the Fijuk network of comic artists around the Adriatic sea.