Started as an idea between two friends in Denver Colorado in the Summer of 2001 SHERBERT began with and still exists on one simple idea: to inspire and to be inspired.
Each issue of SHERBERT is based on a loose theme and features emerging talent in the fields of illustration, photography, design, literature from around the globe.
Issue 6: "Personal Space" has been over a year in the making and is their biggest and finest issue to date. A few Portland residents make contributions including a 'Smiling Disease' postcard from Scott Larkin that invites the reader to draw or design whatever they want on the back and send it back to him. Postage paid. Also includes a ruler and a compilation mix cd from Nobot Media.
Issue 5: "The Childhood Issue" comes packaged with a Wooster Collective vs SHERBERT Magazine coloring book, a mix CD from DJ idiom from Denver, and 3 pixie sticks.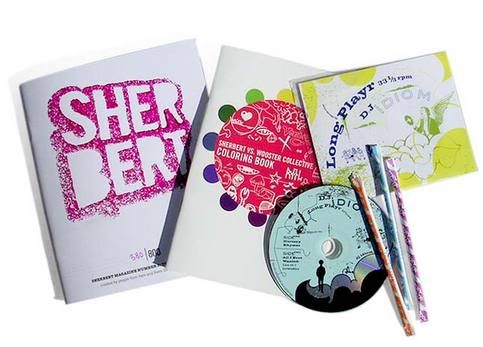 Both issues are numbered limited editions. Issue 4 is sold out but has been uploaded as a pdf. Check it here: