Just got 2 amazing DVDs in the shop. 'ELECTRIC DRAGON 80000V' and 'BURST CITY' by Sogo Ishii. This is the first release of his anarchic punk epic 'BURST CITY' (1982) with English subtitles. His manic handheld 8mm and 16mm films from the early eighties were a huge influence on Takeshi Kitano, Shinya Tsukamoto, and Takashi Miike. If you've seen the Einstuerzende Neubauten documentary '1/2', then you've seen his work before.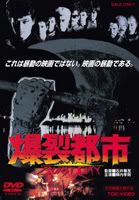 (Even the box for 'BURST CITY' is totally awesome)
'ELECTRIC DRAGON 80000v' is also in Rock and Roll, with English subtitles. Just watched it again last night. Tadanobu Asano is amazing as reptile investigator 'Dragon Eye Morrison'. Best electric guitar action ever captured on film. Struck by lightning as a child, Morrison suffered damage to the 'reptile' part of his brain, the part that controls passion and emotions. Years of electroshock therapy have not contained his violent spirit. He conducts electricity and has to ground himself every night before shackling himself into bed. His only salvation is the electric guitar. He is destined to confront his nemesis, Thunderbolt Buddha, on the rooftops of Tokyo. Buddha seems to only wish for self destruction, but is there a deeper lesson in his mysterious nature?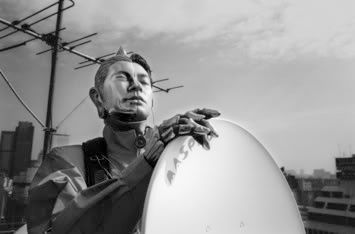 Nagase as 'THUNDERBOLT BUDDHA'
Asano is a sometimes member of Sogo Ishii's band 'Mach 1.67' which provides the thundering soundtrack to this film. The soundtrack is included as a bonus disc with this release. This film is the visual equivalent of rock and roll baptism. Hook your dvd player up to a receiver with stereo speakers, or dolby if you got it. I think I remember reading that ELECTRIC DRAGON was originally in 16 channel sound and there was only one theater in the world that could show it properly.
"GUITAR!!!!!!"
Asano also created a lot of animation for 'ELECTRIC DRAGON'. For more of his art check out 'BUNCH', a collection of his drawings, paintings, CG, collage, etc… Also in stock at FLOATING WORLD COMICS.
Check out the trailers here: