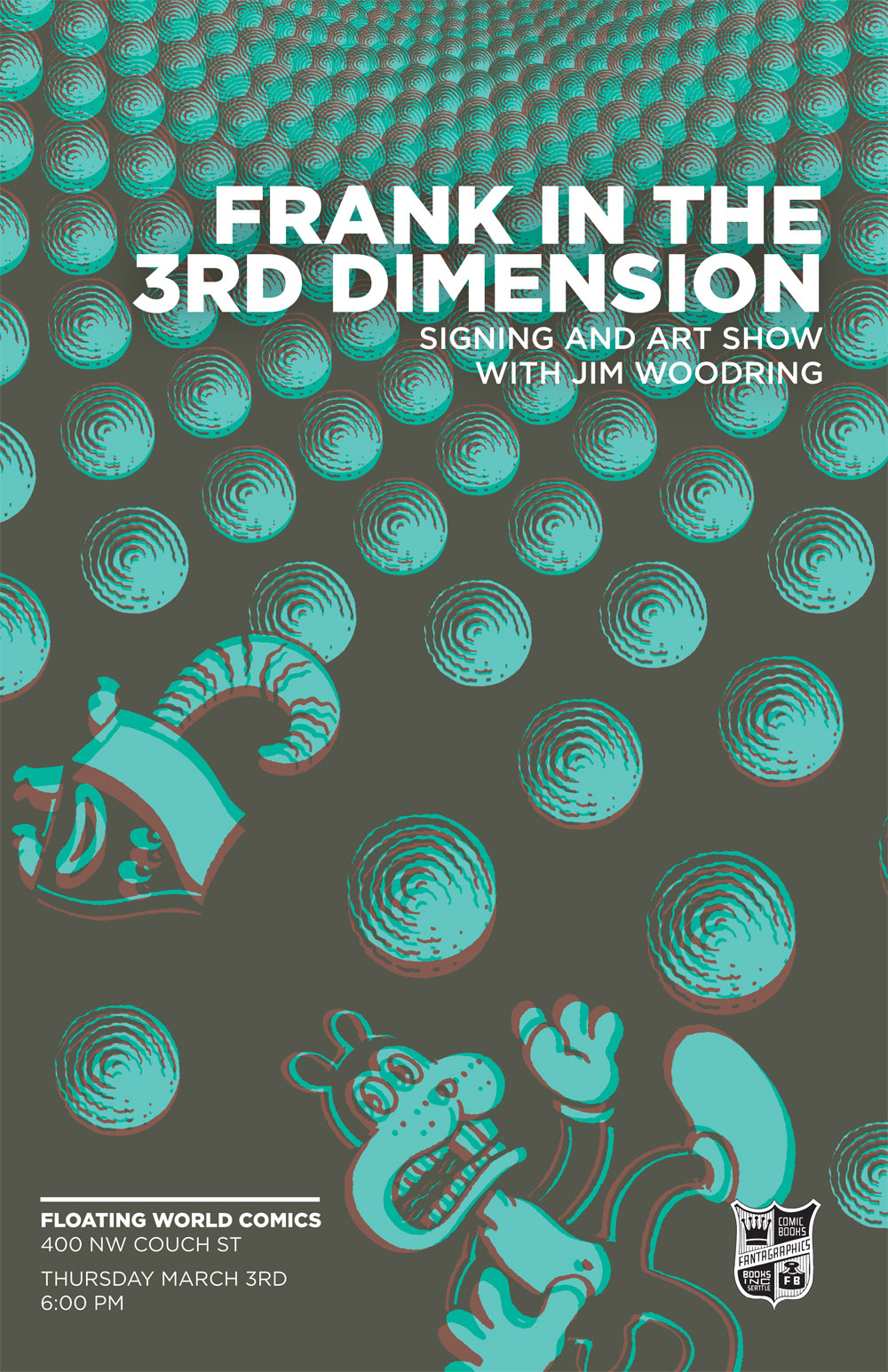 This is your chance to see Frank as you've never seen him before.
Not the stark black-and-white Frank. Not even the glorious fully-painted Frank. No, this is Frank in the third dimension: about as real as you can get him outside of an Ionescoian theatrical performance (which could be next — watch your local theatre listings). Frank and Frank's world are already hallucinatory, but seeing him in the most technologically advanced and artistically crafted 3-D ever produced is an experience that has to be savored to be believed. This is not your dad's 3-D comic where you don red and blue-lensed glasses and the drawing looks like a few layers of cardboard cut-outs. Uh-uh. The 3-D process for Frank in the 3rd Dimension involves creating more than 150 layers per drawing in order to round and "sculpt" each image into full, volumetric 3-D. The results are mind-staggering. Frank in the 3rd Dimension is a series of Jim Woodring's loveliest pictures — 32 anecdotal visual vignettes, dioramas, moments pickled in time (and now "space") to be mused and mulled over.
Jim Woodring will be here to sign his new book and we will display 3D prints as well as projected images from the book that can be viewed with 3D glasses for a one of a kind immersive experience.
WHO: Jim Woodring
WHAT: Frank in the 3rd Dimension release party and exhibit
WHEN: Thursday Mar. 3, 6-9pm
WHERE: Floating World Comics, 400 NW Couch St.
Jim Woodring's cartoons chart a course through some of the most surreal imagery ever seen in any artistic medium, drawing visions from the realms of the subconscious to create a graphic world of dreams. But while his work may speak in the language of dreams, Woodring's life has often led him into nightmare territory.
As a child, Woodring was plagued by both schoolmates and by waking nightmares accompanied by "voices" — a condition which would haunt him through childhood and much of his adult life. After enduring drug and alcohol abuse and homelessness, he worked as an animator for several major studios. At the same time, Woodring worked on his own cartoon visions, self-publishing them in minicomic format.
In the mid-'80s, Woodring was introduced to publisher Gary Groth by mutual friend Gil Kane (who worked with Woodring at Ruby-Spears), and Groth agreed to publish Woodring's work. In 1987, Woodring quit animation and moved with his wife Mary and son Max to Seattle, where they live to this day. In addition to his critically acclaimed comics and books, Woodring also works in canvas painting and 3-dimensional objects, many of which have been featured in gallery exhibitions from Seattle to New York.
Jim's work has taken him around the world, from Australia to Alaska to Oslo, and has garnered him numerous awards, including an Artist Trust Gap Award in 2003; a United States Artist Fellowship (with Bill Frisell) in 2006; a 2008 Artist Trust Fellowship; an Inkpot Award at the 2008 Comic-Con International in San Diego; a Rasmuson Foundation and Artist Trust one month residency in Homer, Alaska in 2010; and most recently, The Stranger named Jim their 2010 Literature Genius.
"Woodring is fantastic… his stuff will outlast all but one in a thousand of his peers. His stuff is a revelation." – Scott McCloud
"I promise to spare you all my worst visions." – Jim Woodring
Tags:
Fantagraphics
Jim Woodring