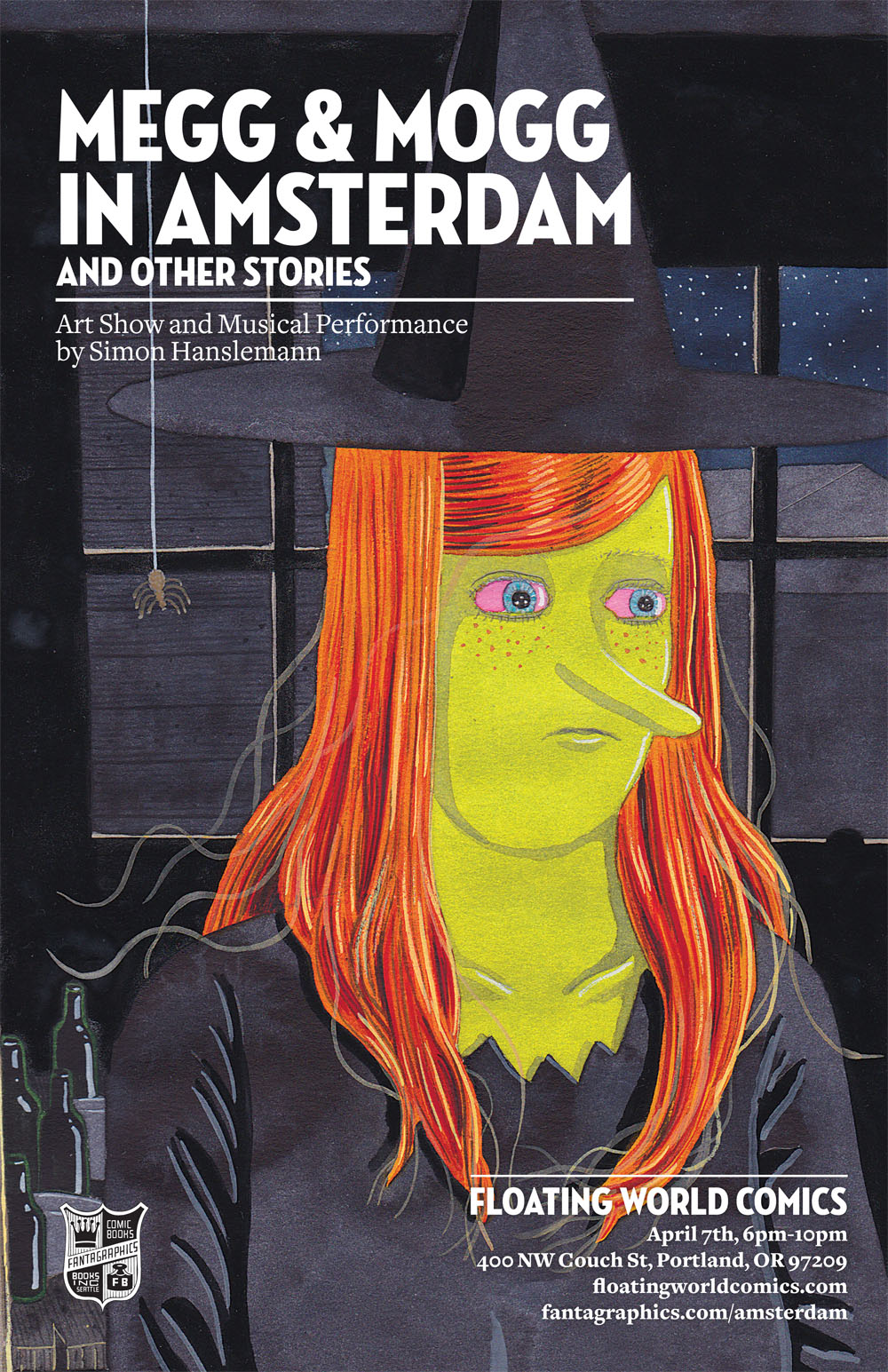 Born in mini-comix and made popular by Tumblr, Simon's Hanselmann's comics embody the angst of being an aging 20-something. In the wake of the New York Times Best-Seller Megahex, Megg & Mogg in Amsterdam (link) follows Megg the witch, Mogg the cat, their roommate Owl, and Werewolf Jones as they all struggle unsuccessfully with their depression, drug dependency, sexuality, poverty, lack of ambition, and their complex feelings about each other.
Debuting this April 7th at Floating World, Megg & Mogg in Amsterdam is the graphic novel anthem for people who are trying to find their place in the world. Collecting all of Hanselmann's contributions to Vice.com, the Ignatz Award-nominated short story "St. Owl's Bay," and other surprises, Megg & Mogg in Amsterdam will add additional color and background for fans of Megahex. We will have original art from the book on display all month and Simon has prepared a special musical performance for the release party.
WHO: Simon Hanselmann
WHAT: Megg & Mogg In Amsterdam and Other Stories release party, art exhibit & musical performance
WHEN: Thursday April 7, 6-10pm
WHERE: Floating World Comics, 400 NW Couch St.
New York Times Best-Selling cartoonist Simon Hanselmann (Megahex) was born in Tasmania and currently resides in Seattle, WA. He spends his days meticulously watercoloring each page of comics he hand draws. Simon has found international success with his stoner witch comics, which have been translated into over a dozen languages. When not makes comics, Simon can be found smoking cigarettes and walking a one-eyed dog.
MEGG & MOGG IN AMSTERDAM AND OTHER STORIES
by Simon Hanselmann
$19.99 • ISBN: 978-1-60699-879-3
160 Pages • Full Color • Hardcover
fantagraphics.com/amsterdam
Praise for Megahex:
New York Times Best-Seller
"Hanselmann's comics address the dingiest crevices of the human experience—suburban ennui, body freakouts, and acid trips—but none of his characters are human, which just makes them that more relatable. And for all its absurdist, stoner tendencies, his work aims a magnifying glass at the anxieties, delusions, and often crippling self-doubt we all feel but rarely talk about." – Leah Mansel, The Fader
"…Megg's depression isn't your garden-variety Prozac episode. She's so invariably and subtly disconsolate and experiences such disturbing mood swings that it's impossible not to feel at least a tinge of that heavy sadness. And because the book is funny, too — they smoke lots of pot — her depression seems that much more real." – Nicole Rudick, The Paris Review
"Megg and Mogg are unforgettable leads, and Owl and Jones are the perfect foils, and Hanselmann's art pops off the page thanks to his gorgeous use of colour. Hanselmann is a consummate artist and writer." – Lee Henderson, The Globe and Mail
"The best way to describe these comics to anyone who hasn't read them is simply to say they feel complete, with everything precisely in its right place, as if Hanselmann's tiny panels really were just little windows into a strange universe of post-college weirdos, slackers, and psychotics who just happen to be talking animals." –Tim O'Neil, The A.V. Club
"Profane though it is, the narrative of three 20-something roommates casually tormenting each other mixes an intelligent understanding of depression and anhedonia with its crudeness." –Hillary Brown, Paste
"Featuring old-school underground comix, but with the style and serial nature of even older-school Sunday newspaper comics strips, Megahex is the sort of comic that could only gestate on the Internet, and only find final, full expression in book form from a publisher like Fantagraphics." – J. Caleb Mozzocco, Las Vegas Weekly
"Every page is beautiful. Every joke is funny. Every character is a complete asshole." – Nick Gazin, Vice
"The story is depressing as often as it is funny, a cautionary tale that's at its best when Hanselmann spreads his writing wings, extending beyond a gag strip into an honest exploration of his deeply flawed leads." – Publishers Weekly
Tags:
Fantagraphics
Simon Hanselmann