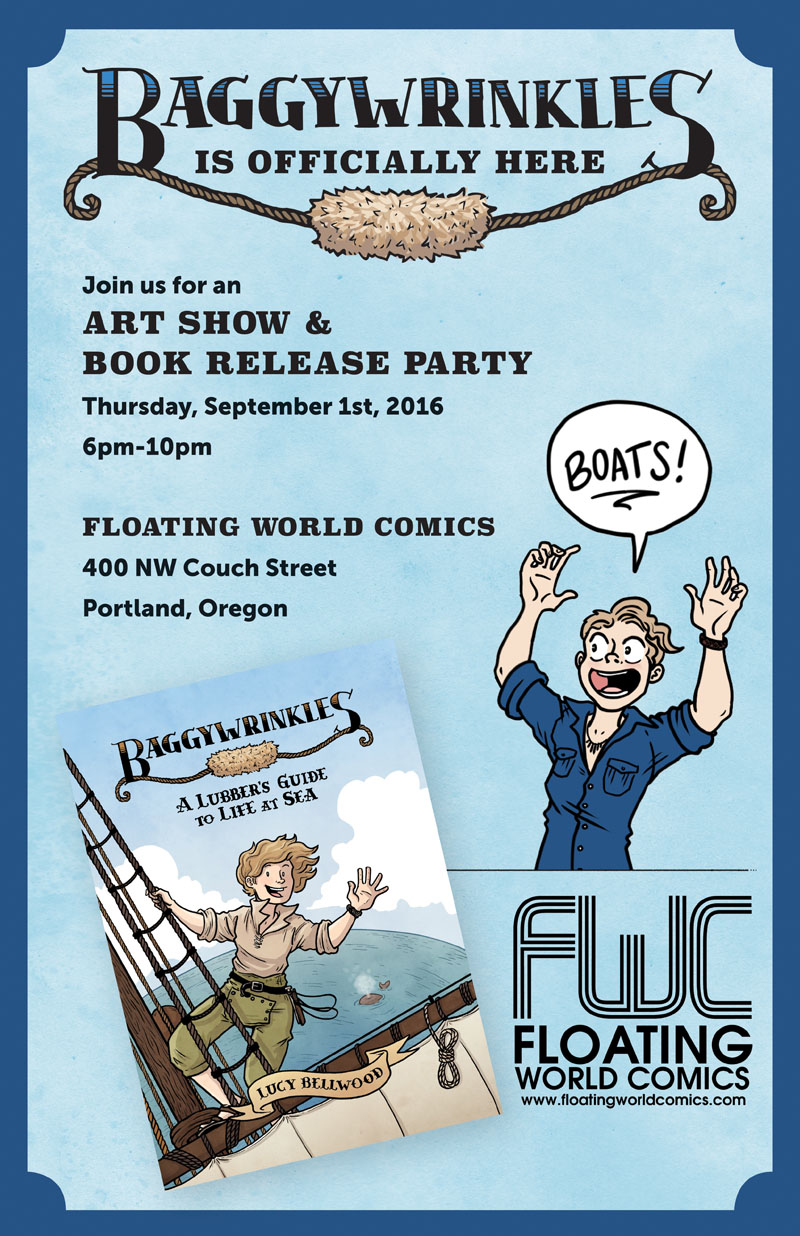 Join cartoonist Lucy Bellwood at Floating World Comics for a rollicking book release party celebrating the launch of BAGGYWRINKLES: A LUBBER'S GUIDE TO LIFE AT SEA!
After a smash-hit Kickstarter campaign in 2015, Baggywrinkles is finally out in print—in a full-color edition with spot gloss, a gatefold cover, and a gorgeous gallery of new guest art.
Baggywrinkles is a rollicking, educational survey of maritime lore built around cartoonist Lucy Bellwood's time aboard tall ships. From the scourge of scurvy to the exhilaration of climbing the rigging for the first time, Lucy's comics bring the reader into a world of high seas history and informative adventure with "a sheer and unremitting sense of joy" [Andy Oliver, Broken Frontier].
We'll have snacks and drinks for all, a wall full of original art from the book, and lots of sparkly nautical temporary tattoos to adorn your salty bodies. Come celebrate First Thursday with us!
WHO: Lucy Bellwood
WHAT: Baggywrinkles release party and art exhibit
WHEN: Thursday, September 1, 6-10pm
WHERE: Floating World Comics, 400 NW Couch St.
Lucy Bellwood is a cartoonist and illustrator working out of Periscope Studio in Portland, OR. When not writing and illustrating her educational, autobiographical sailing comic Baggywrinkles, she draws comics for Symbolia Magazine, The Nib, and Cartozia Tales.
You may also find her sailing tall ships up and down the West Coast. It's kind of a toss-up.