FLOATING WORLD COMICS PRESENTS:
"SPACENIGHT – A TRIBUTE TO BILL MANTLO"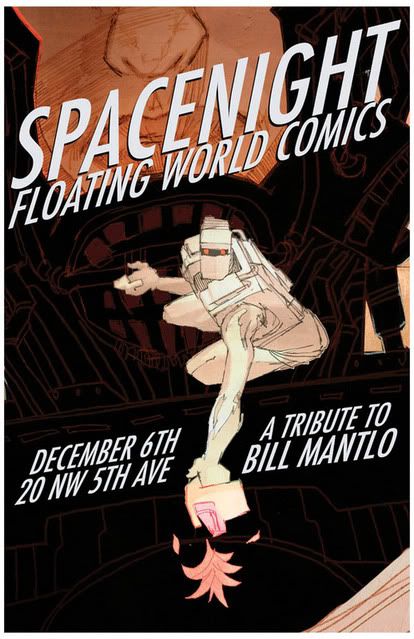 NON-PROFIT FUNDRAISER FOR BILL MANTLO FEATURING OVER 100 ORIGINAL ILLUSTRATIONS OF ROM SPACEKNIGHT BY ARTISTS FROM ALL OVER THE WORLD.


(illustration by Renee French)
Thursday, Dec. 6th, 6-10pm. Show runs through Jan. 1st.
This December our First Thursday show is a tribute to my favorite comic character of all time, ROM Spaceknight, and the man who brought his adventures to life, Bill Mantlo. There will be over 100 contributors including: Jeffrey Brown, Sal Buscema, Guy Davis, Renee French, Simon Gane, Ken Garduno, Brandon Graham, Maureen Gubia, Kevin Hooyman, Corey Lewis, Al Milgrom, Jeff Parker, Ron Rege Jr, Zack Soto, Peter Thompson, Gordon Wiebe, Danijel Zezelj and more! A silent auction will be held for original art, and 11×17" poster prints of every contribution will be available for a suggested donation of $5 or more.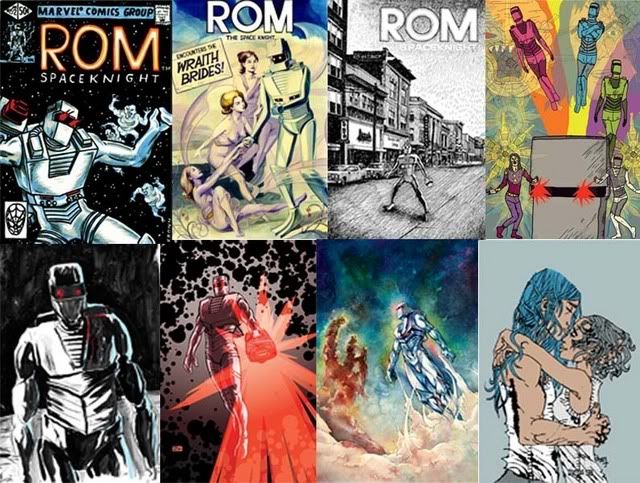 (l to r: Jeffrey Brown, Jonathan Case, Jim Rugg, Pete Toms, Jeff Lemire, Ricardo Venancio, Hyeondo Park, Simon Gane)
The first comic I ever read was ROM Spaceknight, a silver cyborg fighting evil monsters throughout the universe. I collected every issue until the series was cancelled at #75 (when I asked the comic clerk why it was cancelled he kindly replied, "Well, they just ran out of stories to
tell."). Years later I learned that all of these incredible stories were written by one man, Bill Mantlo. At the same time I learned that he had been injured in a hit and run accident in 1992. Due to the severe injuries, Bill currently resides in a Brain Injury Rehabilitation Nursing Home, and will probably do so for the rest of his life.
This show will serve as a fundraiser and celebration of the stories Bill has given us. All of the artwork and more will be compiled in a tribute comic next year that will be sold as a non-profit benefit book for Bill's brother/caregiver, Mike Mantlo, to provide funding to enable Bill to enjoy
somewhat of a quality of life.
Based off an unsuccessful Parker Bros. toy, Bill Mantlo turned ROM into a series that ran for 75 issues and has since become a cult favorite. It has been an honor to connect with ROM fans all over the world and share their feedback and contributions with the Mantlo family. Due to licensing issues with Hasbro, Marvel Comics is unable to reprint any ROM stories or do anything new with the character. This show will mark the first new ROM material fans have seen in over 20 years.
Earlier this year, Publisher David Yurkovich and Mike Mantlo collaborated on a 72-page magazine, Mantlo – A Life in Comics, that was also designed to raise money for Mantlo. Copies of this magazine will also be available at the show and private donations for Bill Mantlo can be sent to his
brother, Mike, at 425 Riverside Drive, Apt. 12-E, New York, N.Y. 10025.
Special thanks to Mike Mantlo, David Yurkovich, Steve Duin, Brian K. Vaughan, Hero Initiative, Dark Tower Comics, Isotope Comics, and everyone who helped spread the word.
Thanks to Greg Pak for interviewing me on the Broken Frontier website. Read the interview here.
Make a private donation to the SPACENITE – BILL MANTLO FUND directly from your Paypal account. 100% of the funds go to Mike Mantlo: