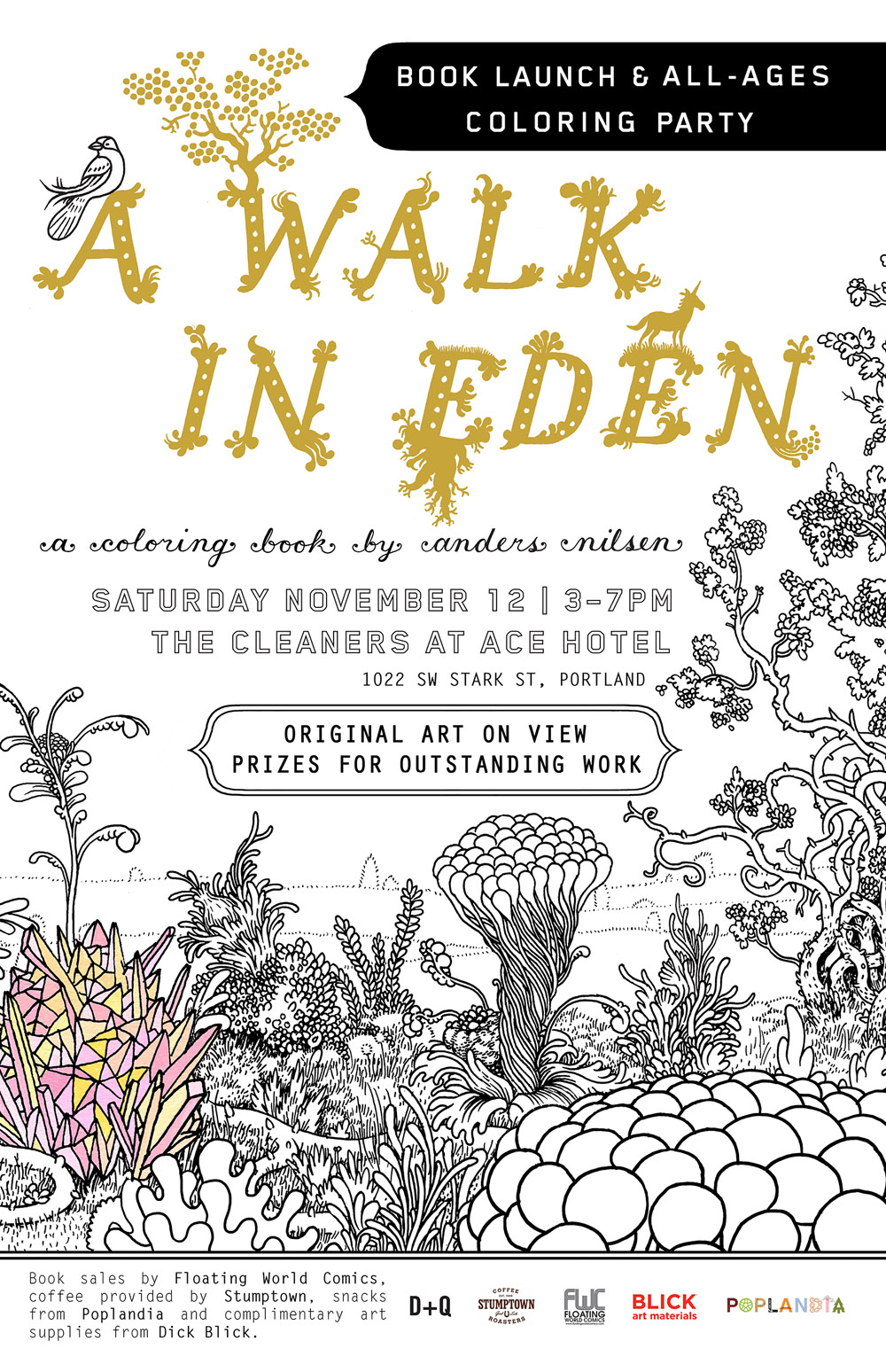 Traverse a lush and abandoned Eden, escaping the everyday for a world waiting to come to life.
Anders Nilsen (Poetry is Useless, Big Questions) is hosting an all-ages coloring book party in honor of his new D+Q coloring book, A Walk in Eden!
A keen observer of the natural world and the mystical treasures contained within, Anders Nilsen uses lush, inky lines to craft an enchanting, meditative journey for your coloring tools. A Walk in Eden is a fantastical view of primeval creation, with an exquisite mix of sprawling landscapes and close-up examinations of plants, fungi, and minerals—think giant crystal formations emerging out of pools surrounded by lush vegetation and flowers the size of small trees. Though this is a world void of humans, here and there are small reminders of our presence.
Informed by the designs of Ernst Haeckel and other early scientific and botanical illustration, Nilsen's world is intricate, playful, and inspired, waiting for you to make it your own. With 80+ full-page drawings, Nilsen invites you to join in the fun and bring the adult- and kid-friendly world of A Walk in Eden to life.
There will be original art by Nilsen on display, and Floating World Comics will be in attendance selling books. Snacks will be provided by Stumptown and Poplandia, and the event will even include complimentary art supplies from Blick. We'll be giving away select prizes for outstanding work as well.
Come by and help fill these lines in!
WHO: Anders Nilsen
WHAT: A Walk in Eden book launch & coloring book party
WHEN: Saturday November 12, 3-7pm
WHERE: The Cleaners at Ace Hotel, 1022 SW Stark St.