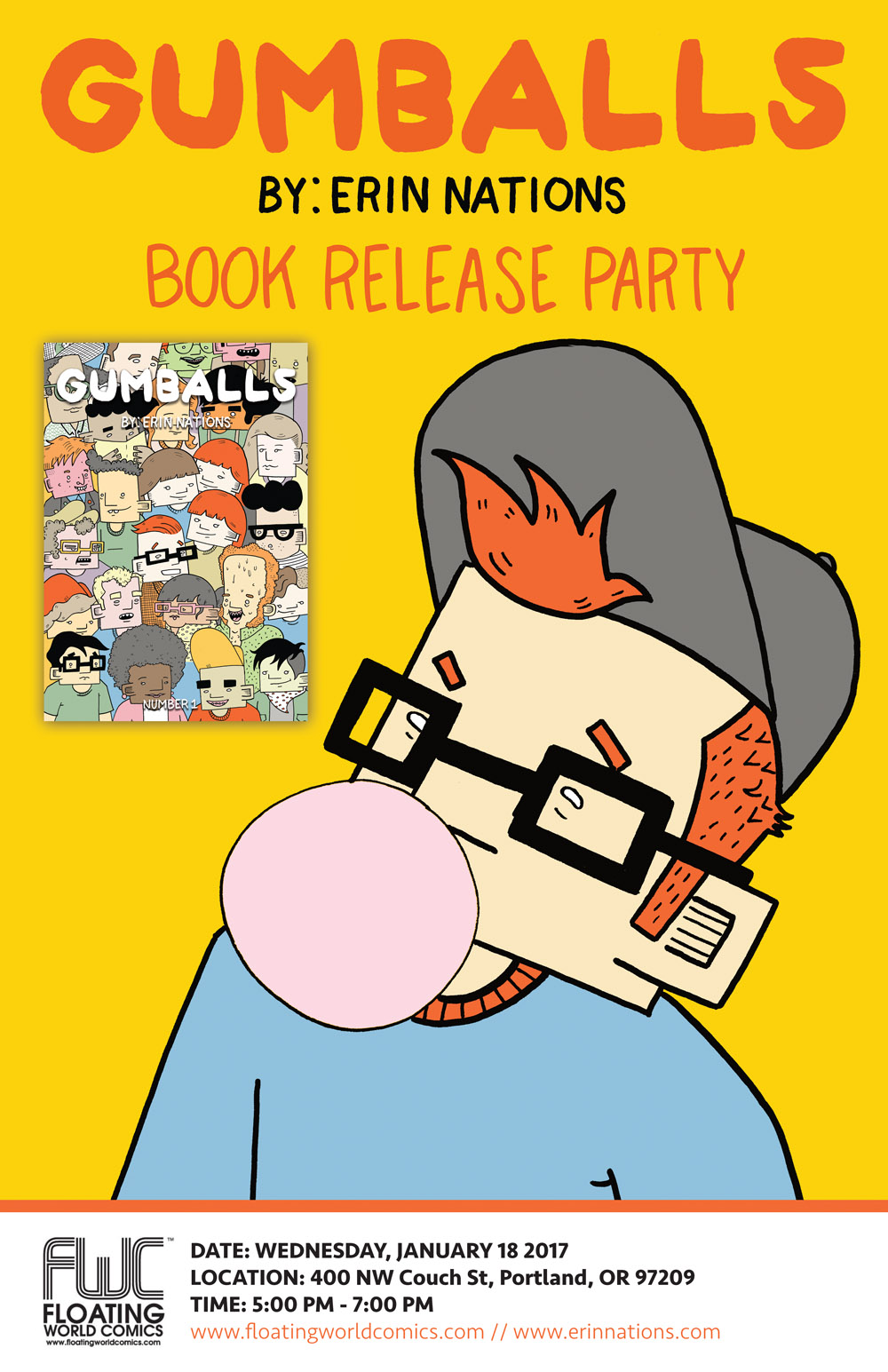 Pop in your quarters and see what pops out of Gumballs — a brand new one-man anthology comic from Portland cartoonist Erin Nations! His bright, candy-colored palette and crisp linework pop off the page, while his stories reflect a fascination with humanity in all its diverse foibles — hinting at one of his earliest creative influences, Matt Groening's The Simpsons.
In Gumballs #1, Erin serves up a delicious variety of stories: recollections of growing up as a triplet, interactions with oddball grocery-store customers, the adventures of clueless dork Tobias, painfully funny faux Personal Ads, and "Tales of Being Trans" — reflections on Erin's true-life journey of gender transition.
Gumballs tips its hat to the classic alt-comic tradition of Eightball, Optic Nerve, and Box Office Poison, but speaks with a delightfully fresh voice for the modern age.
WHO: Erin Nations
WHAT: GUMBALLS #1 release party and signing
WHEN: Wednesday, Jan. 18, 5-7pm
WHERE: Floating World Comics, 400 NW Couch St.
Gumballs breaks new ground as Top Shelf's first project from an openly transgender cartoonist, but it's also our first new project in the comic book format in over a decade. The last comic book series launched under the Top Shelf banner was The Surrogates by Robert Venditti & Brett Weldele, which went on to become a New York Times Bestseller and inspire a hundred-million-dollar movie… so clearly the future is bright for Erin Nations and Gumballs!