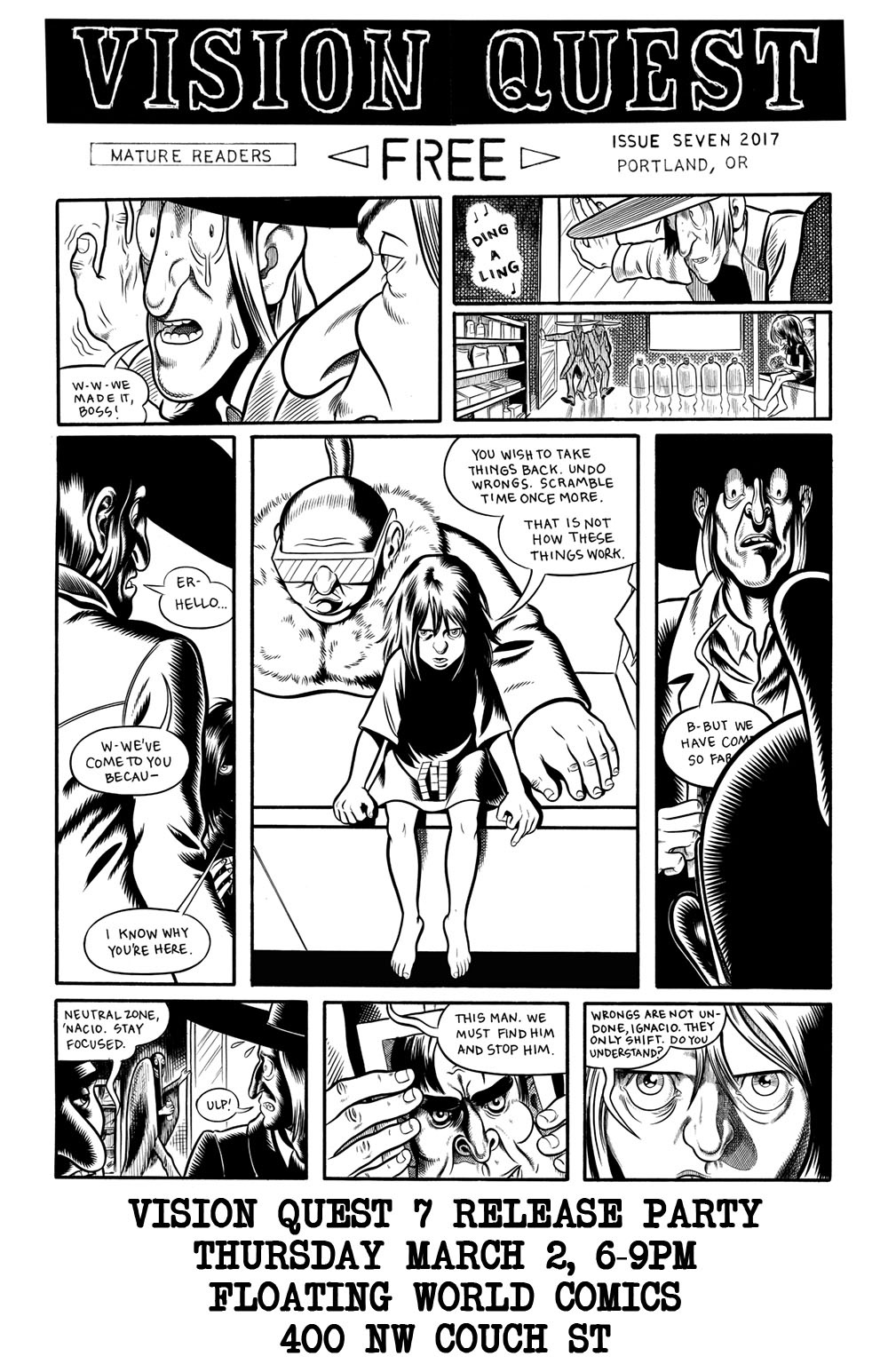 (artwork by Sophie Franz)
The 7th issue of Vision Quest, Portland Oregon's FREE comic newspaper, arrives this March! Vision Quest is a collaborative effort, published and distributed by local comix writers and artists. We are excited to host a release party and art exhibit to celebrate the latest issue. Featuring artwork by Sophie Franz, Josh Simmons, Lark Pien, Alex Chiu, Jason Sturgill, Erin Nations and many many more!
Tim Goodyear (Teenage Dinosaur / Video Tonfa), one of the publishers and contributors elaborated on the inspiration behind it saying "Vision Quest is a boiler plate we got from The Intruder up in Seattle. I have been bummed on the commercial structure of comics for a long time and have tried many times to get comics to folks with out all the barriers that are in place. Ian Sundahl asked me how The Intruder paper was structured and I told him what Max Clotfelter had told me. He asked if I'd want to do that here, I said I wasn't sure. 6 or 8 months later he asked me again and I said yes. It's been great. I love it."
"Money is gross," Goodyear says. "Money is a terrible obstacle for the growth of comics. People think they like comics but most don't really know—finding, choosing and paying for them is not something I see much. Mini comics have such small quantities that few people ever get to see them. How can an artist get seen and find the audience who will love them?" The solution? Vision Quest. "It's free so we don't need to be present and their curiosity is the only cost," Goodyear says, speaking of the paper's various drop-off locations, scouted by the artists and publishers.
WHO: Tim Goodyear, Ian Sundahl, and a host of local artists
WHAT: Vision Quest 7 release party
WHEN: Thursday, March 2, 6-9pm
WHERE: Floating World Comics, 400 NW Couch St.