FLOATING WORLD COMICS, DARK HORSE COMICS & STUMPTOWN COMICS FEST PRESENT:
THE ART OF NICHOLAS GUREWITCH & TONY MILLIONAIRE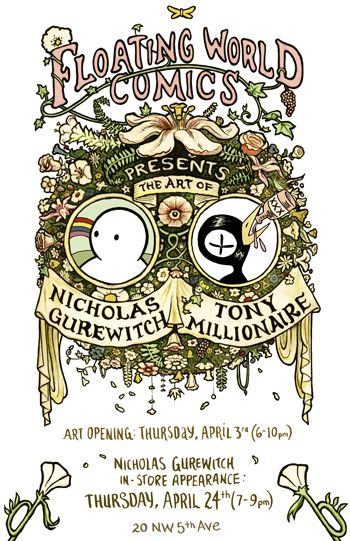 (poster by Nicholas Gurewitch)
This April, artists Nicholas Gurewitch and Tony Millionaire are brought together for one exciting exhibition. On April 3rd, 2008 Floating World Comics, Dark Horse Comics & Stumptown Comics Fest are proud to present the art of Gurewitch's Perry Bible Fellowship and Millionaire's Sock Monkey. Both comic strips have been featured in alternative weekly newspapers all over the world and are collected in book form by Dark Horse Comics.
Original art will be available for view and sale from both artists. Gurewitch will also be producing dozens of oversized prints of his favorite Perry Bible Fellowship strips which will also be on display and available for sale. The art opening is on First Thursday, April 3rd. Nicholas will appear in person on Last Thursday, April 24th at the store from 7-9PM.
LISTING INFORMATION:
WHO: Nicholas Gurewitch and Tony Millionaire
WHAT: Art opening
WHEN: Thursday, Apr. 3rd, 6-10PM
WHAT: Reception with Nicholas Gurewitch
WHEN: Thursday, Apr. 24th, 7-9PM
WHERE: Floating World Comics
20 NW 5th Ave 101
Portland, OR 97209
(503)241-0227
Show runs through Apr. 30th
Nicholas Gurewitch attended New York's Syracuse University, where he studied film and where his comic strip was first published in The Daily Orange. The Perry Bible Fellowship has received eight awards in various categories over the history of the strip.
The dark, surreal humor of Perry Bible Fellowship is often compared to The Far Side but has an even more brutal and fatalistic sense of humor. Lavishly colored, the art switches among detailed depictions of comedy staples like sloths and dinosaurs to an empty-faced cast of doomed stick figure dreamers. Gurewitch's true strength is in expertly using the four-panel comic strip structure to suggest entire storylines and their bleak payoffs. It has achieved a cult following both online and through weekly appearances in newspapers and magazines worldwide. The Dark Horse hardcover collection, The Trial of Colonel Sweeto and other Stories, was one of their fastest selling graphic novel collections and has already gone into 3 printings.
"Nick Gurewitch's strip is one of the few strips that makes me laugh out loud. It's really funny and if newspapers still cared about funny strips, he'd be in more papers, as he should. Except if they bump mine for him." -Tony Millionaire
"Gurewitch's "Perry Bible Fellowship" is a weird mix of sharp and clever gag writing with a hippy-trippy visual sensibility. Go figure! It also keeps getting better and better . . . " -Peter Bagge
"A work of sheer brilliance" -Jim Woodring
"PBF is hilarious and fu**ed-up in a very sublime way." -Scott McCloud
"If Rod Serling had a sense of humor and an illustration degree, this would be his comic strip." -Tom Brazelton (Theater Hopper)
Tony Millionaire is an oddity in the world of comics. There are people who would say he's an oddity no matter what world you call home, but his work in the field of comic books and comic strips truly sets this enigmatic artist and storyteller apart from the rest.
For the last ten years, Dark Horse has published an amazing little gem of a comic called Sock Monkey, which focuses on the adventures of a sock monkey named Uncle Gabby and his inebriated stuffed-toy friend, Mr. Crow, as they innocently wreak havoc on the world around them in a never-ending search for adventure and excitement. It's part children's fantasy, part surreal philosophy, and part grim, gothic fairy tale, all lovingly embellished in Millionaire's signature Victorian illustrative style.
Floating World Comics
20 NW 5th Ave 101
Portland, OR 97209
(503)241-0227
jason@floatingworldcomics.com