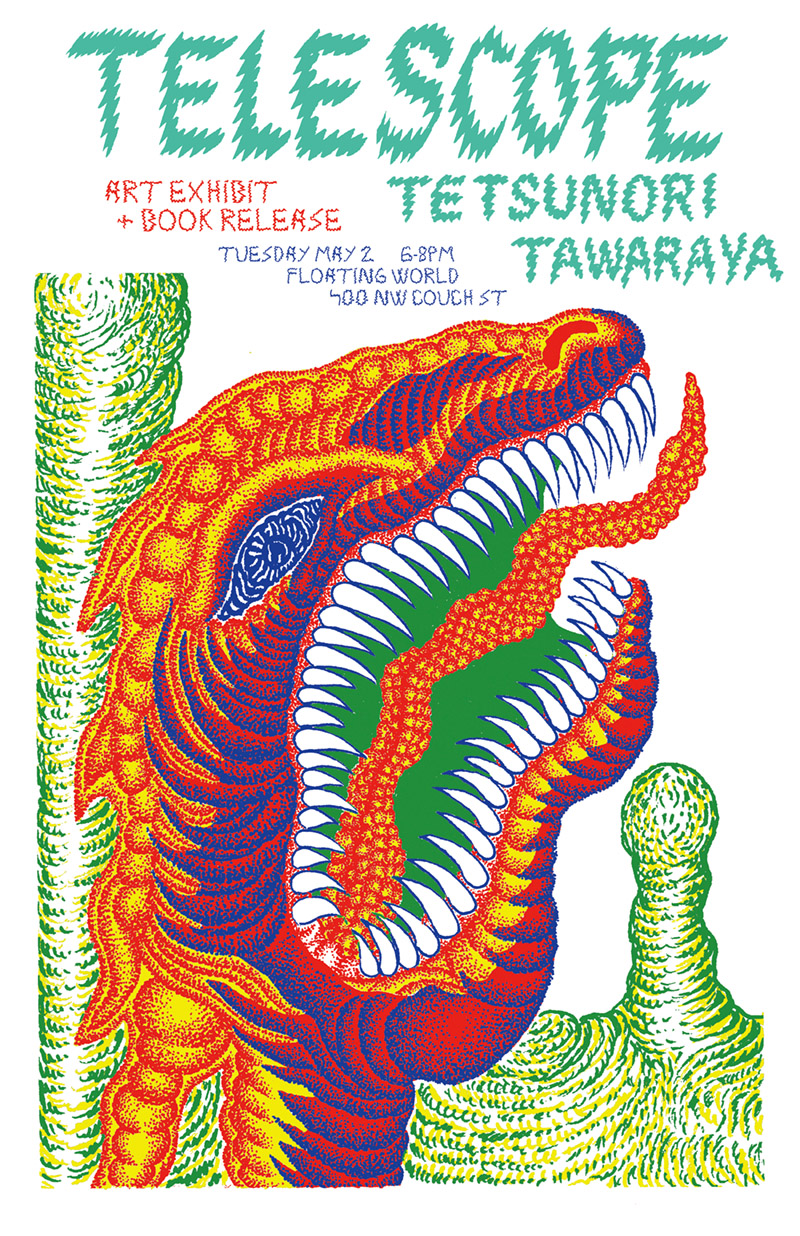 Punk musician and underground Japanese artist Tetsunori Tawaraya is coming to the West Coast this May! His tour will bring him to Floating World on Tuesday May 2nd, to celebrate the release of his new Colour Code publication, TELESCOPE. We will have an exhibit of original artwork and other eclectic items from his tour.
WHO: Tetsunori Tawaraya
WHAT: TELESCOPE book release and art exhibit
WHEN: Tuesday May 2, 6-8pm
WHERE: Floating World Comics, 400 NW Couch St.
TETSUNORI TAWARAYA started drawing portraits of people and musicians in San Diego in 1999. TAWARAYA's prolific output of gig posters, comics, music started in San Diego simultaneously in 2001.
He formed 3-piece punk band Dmonstrations with the members of Dosage and Usage in 2003. They released EP, LP on SAF Records, GSL(Gold Standard Laboratories), then toured west coast with legendary punk band The Slits. He also writes and performs in Japanese punk duo 2up (pronounced up up) (2002-present), released on SAF Records, Ache Records, and Toad Records.
He was always having handmade comics at punk shows that was crafted with painted card board box as the hard cover, occasionally fur and photo collage were attached. Those independent comics were compiled and released in 400 page book Tetsupendium Tawarapedia in 2015.
His recent works were subsequently publishing on Hollow Press (Italy), Le Dernier Cri (Marseille, France), and Colour Code (Toronto, Canada).