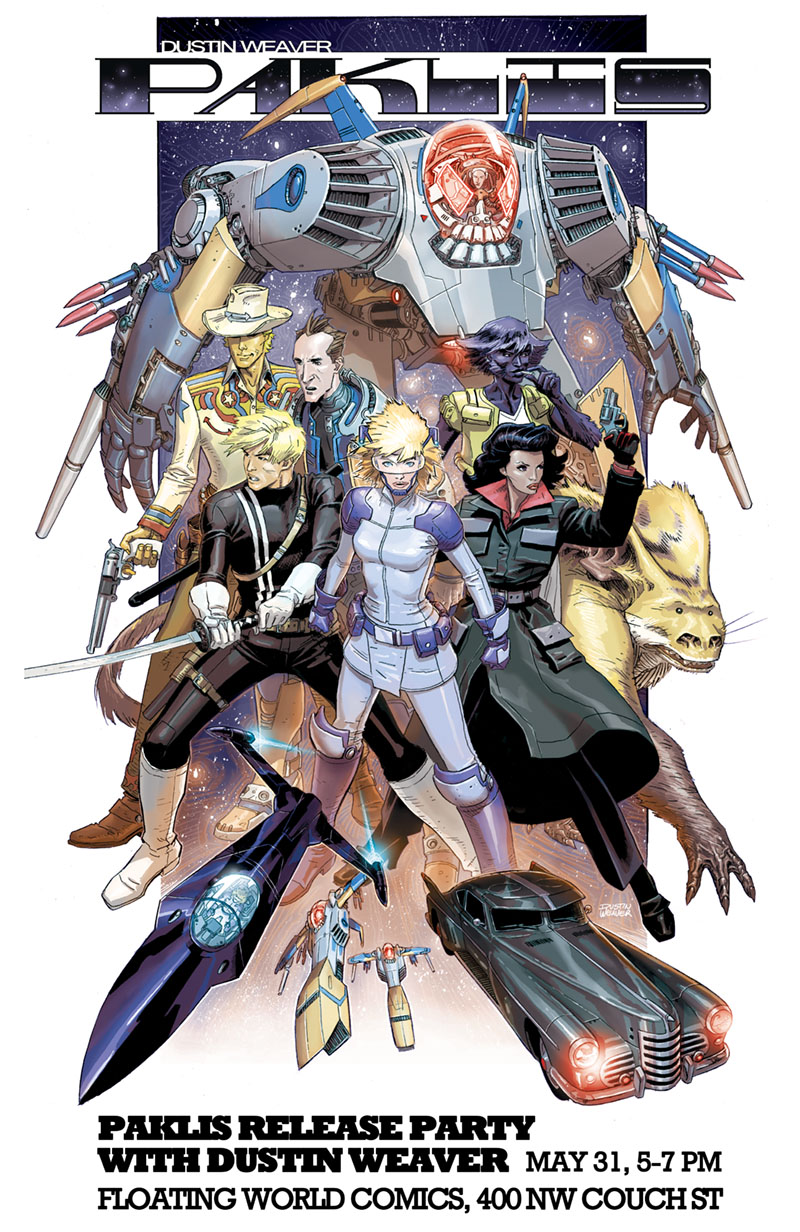 Image Comics is pleased to introduce PAKLIS—a new anthology series from writer/artist Dustin Weaver—where the characters in three mind-bending stories find themselves faced with dark, existential questions that will haunt readers. Join us on May 31 for a release party and signing with local artist, Dustin Weaver!
"My influences on this series range from Kafka to Miyazaki. The Twilight Zone, Aeon Flux cartoons, and the comics of Moebius and Otomo are all major touchstones," said Weaver.
In "MUSHROOM BODIES," Greg struggles with knowing what's real and fears becoming complacent in a world of human insects. In the first installment of "SAGITTARIUS A*," war hero Linus Rad is on a mission to the center of the galaxy to learn the dark secrets of his dead father's scientific experiments. In the first chapter of "AMNIA CYCLE," Tara, a young Jet-Wing pilot, goes AWOL in the war against the Nuriel in order to help Amnia, a mysterious alien with no memory of where she came from and a desperate need to stop a terrible disaster! When Amnia disappears, it sends Tara on an adventure into the Shadow Zone.
Step into the unknown. Journey into the shadows. There you'll find PAKLIS.
WHO: Dustin Weaver
WHAT: PAKLIS #1 release party and signing
WHEN: Wednesday May 31, 5-7pm
WHERE: Floating World Comics, 400 NW Couch St
Dustin began his career in comics as an intern at WildStorm Studios in 2003, where he was held to an unreasonable standard by his idol. Since then, he's illustrated the NY Times bestselling novel The Tenth Circle, had a fruitful relationship with Dark Horse Comics where he made significant contributions to the Star Wars: Knights of the Old Republic series, and worked for several years exclusively at Marvel where, most notably, he co-created the acclaimed series S.H.I.E.L.D: Architects of Forever with writer Jonathan Hickman. Dustin now dedicates himself to his own Image series, PAKLIS.