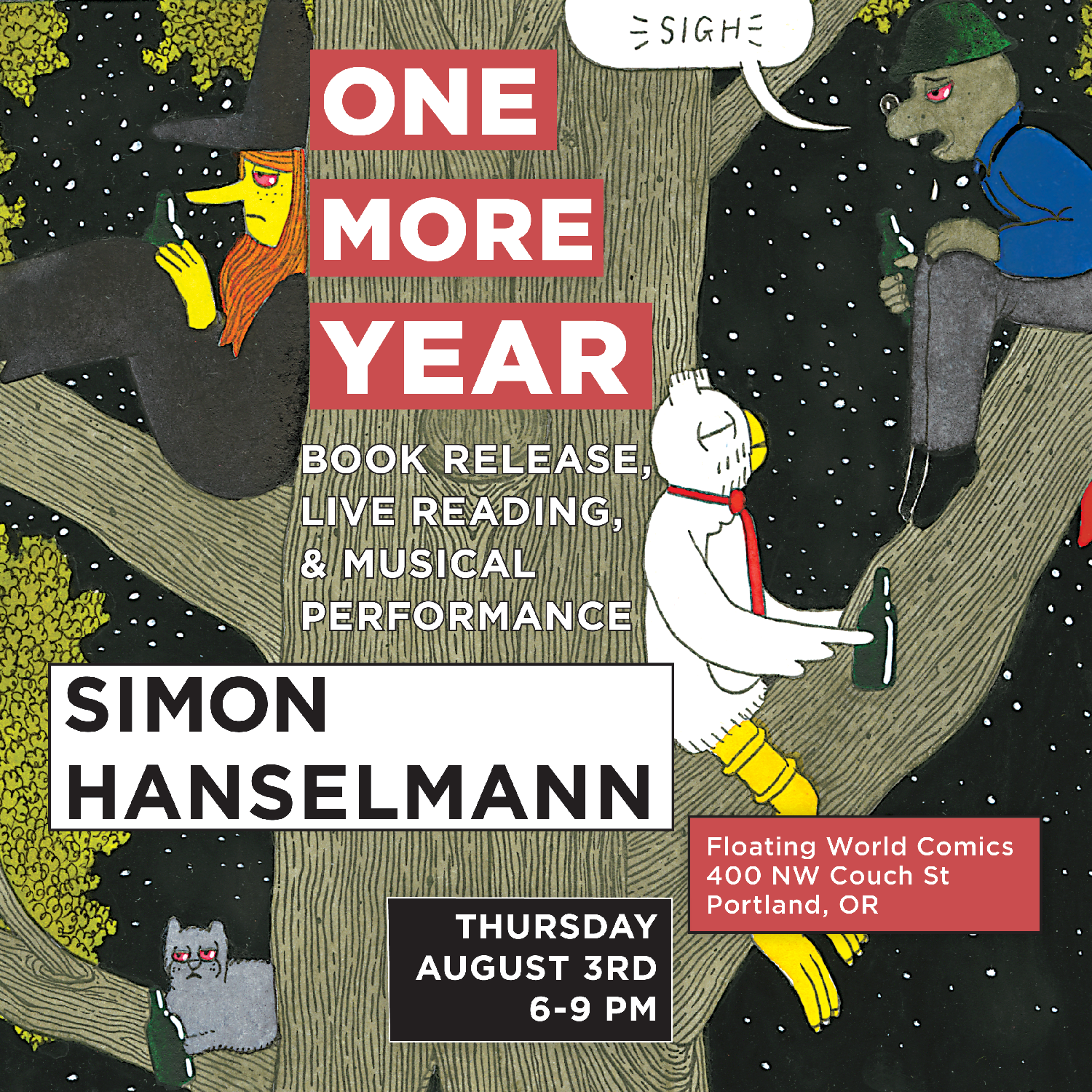 We are proud to host a release party and live performance with Simon Hanselmann, to celebrate the release of his new book One More Year. We will also co-publish a new broadsheet newspaper featuring Simon's latest paintings which will exclusively debut at this event.
As a genderqueer immigrant living in Trump's America, Simon Hanselmann has a lot to say about making controversial social commentary art in our current political climate. More than his previous two New York Times bestselling graphic novels, One More Year dives deeper into body dysmorphia, transphobia, mental illness, and addiction.
Megg the witch, Mogg the cat, and their friends Owl and Werewolf Jones are imbued with far more pathos and depth than seems plausible given the stock comic premise — drugged-out, slacker roommates. Depressing, hilarious, endlessly relatable, and exceedingly human — despite being about a witch, a cat, and an anthropomorphic owl — One More Year continues to give more substance to the characters and personalities of its protagonists in ways that never fail to surprise, delight, and horrify.
WHO: Simon Hanselmann
WHAT: One More Year release party and live performance
WHEN: Thursday August 3, 6-9pm
WHERE: Floating World Comics, 400 NW Couch St.
ONE MORE YEAR
by Simon Hanselmann
Release Date: 6/20/2017
$24.99 • ISBN: 978-1-60699-997-4
220 Pages • Full Color • Hardcover
fantagraphics.com/onemoreyear
Hanselmann has found international success with his hand drawn meticulously watercolored witch comics and has been translated into over a dozen languages. This Tasmanian cartoonist recently immigrated to the US and now lives in Seattle, WA with his pet rabbit, Woody.