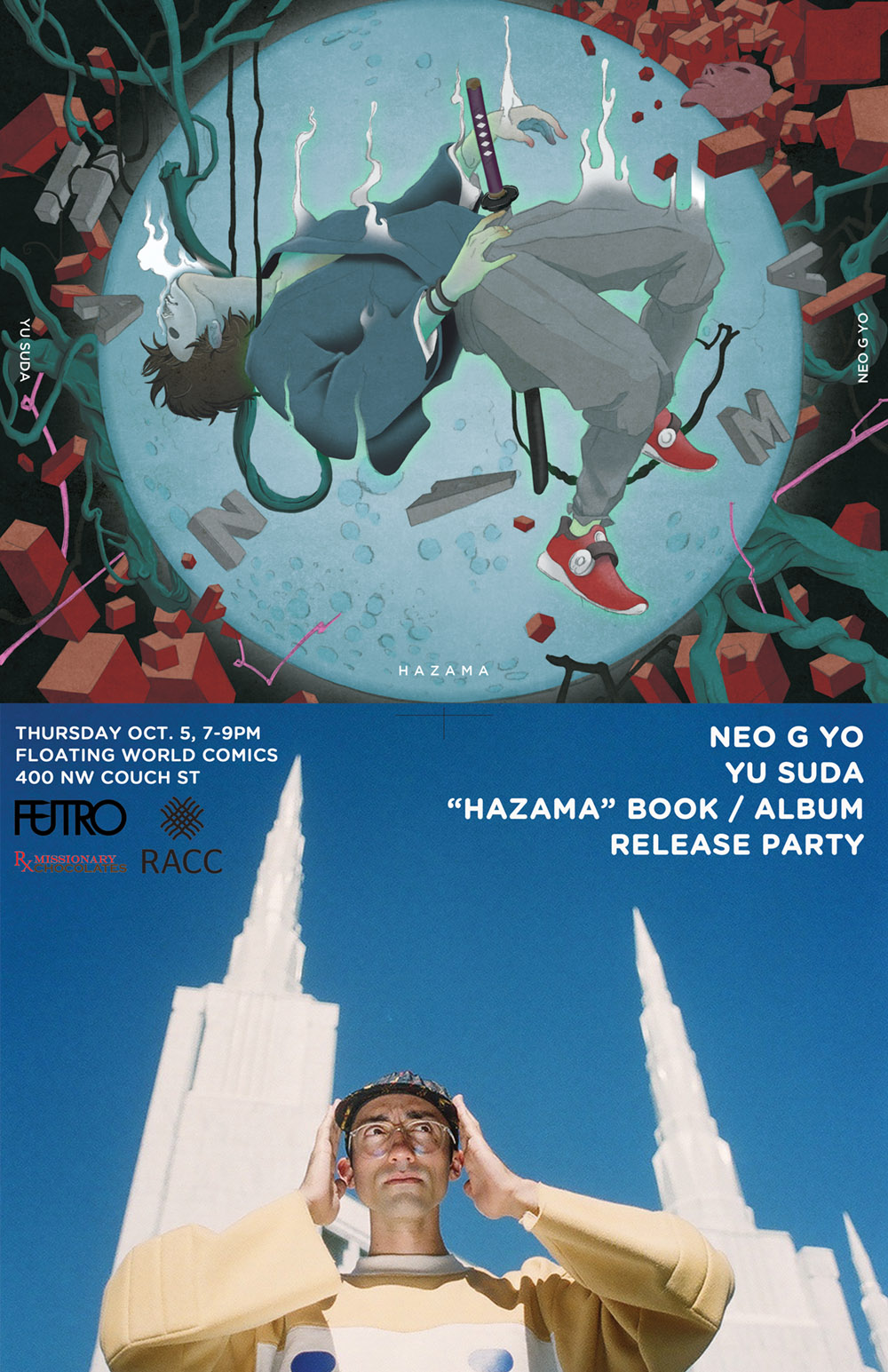 Book release party of HAZAMA the physical component which accompanies the music of Neo G Yo's debut LP.  A dialogic expression of word and illustration from Portland to Tokyo to Portland.
Tokyo artist YU SUDA will be present! RX Missionary Chocolates will provide Vegan Truffles for the party.
Hazama, the debut full length LP and book from the party conscious MC and Futro Collective founder Neo G Yo, is an exploration in the concept of "in between" ("hazama" in Japanese). Upon receiving funding from a 2017 project grant from RACC (Regional Arts and Culture Council), Neo was able to expand his vision into a uniquely collaborative project. The production work, composed by longtime collaborator Winston Lane, embodies a spacious containment with heavy drums and cosmic synths. Within this sonic urgency, a story of relationships is told from the perspective of a character who is forced to face life in a constant state of unease. Through his connection to nature, Neo grapples with the challenges of a progressive society intent on infinite growth and connectivity.
The prominent physical format for the work will be an illustrated poetry book that will act as a companion to the Hazama story told on the album. The book contains 10 illustrations by Tokyo, Japan-based artist Yu Suda drawn in reaction to each song. The poetic content of the book is a dialogic response to the imagery, resulting in a cross-cultural exchange between sound, illustration, and text. Suda's work embodies a playful seriousness, while exploring a unique representation of retro futurism that coexists well within the realm of Neo G Yo. Hazama will also be released on a limited run of tapes in collaboration with Intrinsically EYRST.
WHO: Neo G Yo + Yu Suda
WHAT: "Hazama" album + book release party
WHEN: Thursday, Oct. 5th 7-9pm
WHERE: Floating World Comics, 400 NW Couch St