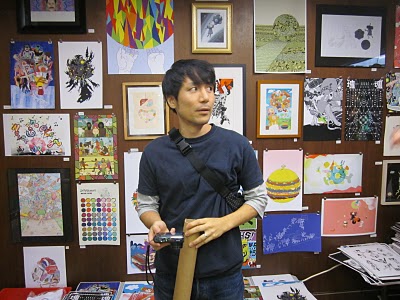 Katamari creator, Keita Takahashi surveys the artwork he has inspired.
Thanks to everyone for making this such a fun and successful show.  What a dream come true that Keita could visit the store and see the art in person.  He took pictures of everything and even collaborated on Douglas Sherwood's art, drawing a little Noby Noby Boy sketch onto the original artwork.
All of the auctions for original art and one of a kind archival prints are on eBay now.  They are staggered across 4 days.  The first batch ends Thursday, Sept. 30th.  The last batch ends next Sunday, Oct. 3rd.
View all of the artwork here.
View all of the eBay auctions here.
100% of the proceeds go to JOIN PDX, a local nonprofit that helps connect the homeless with a home.  Have fun bidding on the artwork!