Floating World Animation Fest returns with a new name and trippier mission. We've dug even deeper into the vaults of psychedelic animation to curate a heroic dose of visionary video art for this year's animation fest.
For our fourth annual animation fest it was time to focus on what we liked best from previous shows and continue to seek out films that really embrace the infinite mysteries that resonate with us. The result is DMTV, a program that goes further into experimental realms of video art and abstract visuals.
Rounding out the evening are two of my favorite local bands, Atole and Nice Nice who will perform with live visuals mixed by e*Rock and Yoshi Sodeoka.
DMTV trailer – Floating World Animation Fest, Holocene, Oct. 13th 2010 from Floating World Comics on Vimeo.
LISTING INFORMATION:
WHO: Atole, Nice Nice; films by: Barry Doupe, Michael Robinson, James Mercer, Eurico Coelho, Jacob Ciocci, Milton Croissant, David O'Reilly, Dash Shaw, Dalibor Baric, Kihachiro Kawamoto, Max Hattler
WHAT: FWC's 4th annual animation fest & live music by Atole, Nice Nice
WHEN: Wednesday, October 13th, 8pm – 1am
WHERE: Holocene, 1001 SE Morrison St.
COST: $7 at door, $5 advance tickets at Floating World, 21+
Highlights of this year's program include:
Travel, aka The Trip (1973) – Kihachiro Kawamoto studied puppet animation in Prague in 1963 before going on to create his own haunting puppet and cut-out animations drawing from his own Japanese heritage. Travel depicts the journey of a young girl into the Dali-esque landscape of her own psyche.
Apeiron (1996) – Eurico Coelho depicts a modern technological labyrinth where society has surrendered to the cold lamps of their computer screens. The entirety of this ten minute film was animated on a Commodore Amiga 4000, giving the film a completely fresh aesthetic that has outlived the technology with which it was created.
The Peace Tape (2008) – With a title hearkening back to the analog era, The Peace Tape is a frenetic remix of old and new "found" video. Culling his sources from thrift stores (countless straight-to-VHS childrens' programs), the Internet (a single YouTube clip featuring "dog in a dog costume"), and his own designs (flash animation of eyes and mouths, subliminal flickers of text), Ciocci concentrates hours of light entertainment into a dense, four-minute block. Saved from total sensory overload by the musical logic of Extreme Animals' "A Better Way," The Peace Tape is cryptic, hypnotic (and above all), empathetic. "Culture is out of control," Ciocci explains, "but it is ok."
Whose Toes (2009) – Barry Doupé's films are as surreal as any Lynch or Jodorowsky movie, but with an added level of weirdness because they are rendered with Sims-like polygon graphics. Showcasing the late Princess Diana and JFK as its main characters, we are invited to return to past events that have caused discomfort, and to re-imagine a misstep in time.
The Unclothed Man in the 35th Century A.D (2009) – This original animated web series is based on graphic novelist and comic book artist Dash Shaw's latest book of the same title. Shaw's animation has been widely praised for its eclectic style, innovative design and emotional depth.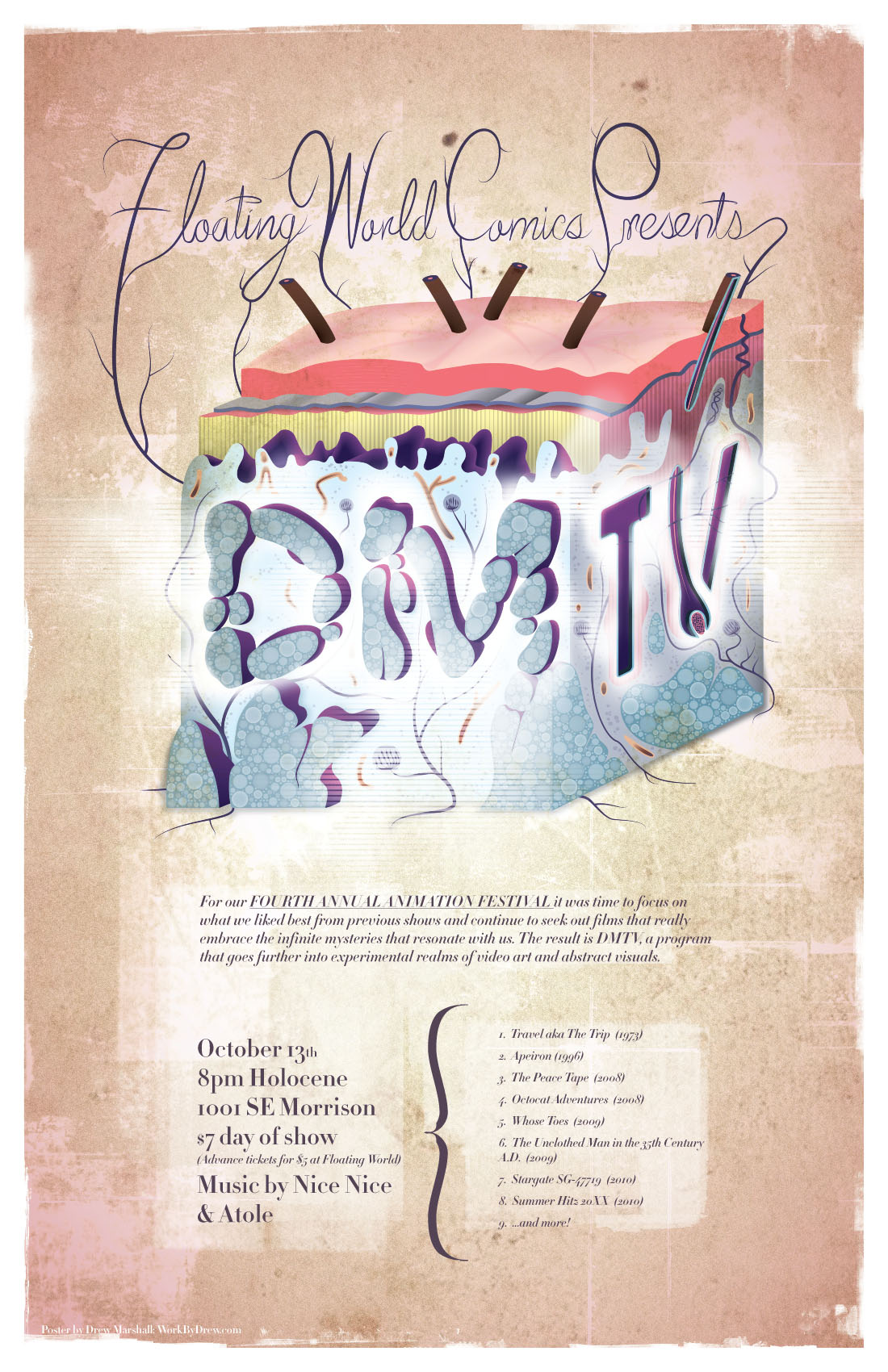 (poster design by Drew Marshall)
SCHEDULE:
8:15pm: Whose Toes directed by Barry Doupe (30 min)
9:00pm: Atole
10:00pm: DMTV (80 min)
11:45pm: Nice Nice
DMTV Program:
WHOSE TOES
Director: Barry Doupe
Canada (2009), 33:00
http://www.barrydoupe.ca/
ALL THROUGH THE NIGHT
Director: Michael Robinson
US (2007), 4:23
http://www.poisonberries.net/
UNIVERSE HOUSE
Director: James Mercer
USA (2009), 4:12
http://www.james.trummerkind.com/
APEIRON
Director: Eurico Coelho
Music: Carlos Curto
US (1996), 12:27
http://vimeo.com/user1029124
THE PEACE TAPE
Director: Jacob Ciocci
Music: Extreme Animals
US (2008), 4:03
http://www.jacobciocci.org/
SUMMER HITZ 20XX
Director: Milton Croissant
US (2010), 2:21
http://www.mmciii.com/
OCTOCAT ADVENTURES
Director: David O'Reilly
UK (2007), 4:50
http://www.davidoreilly.com/
STARGATE SG-47719
Director: James Mercer
US (2010), 11:38
http://www.james.trummerkind.com/
THE UNCLOTHED MAN IN THE 35TH CENTURY
Director: Dash Shaw
Animation: Jane Samborski and Dash Shaw
Sound: James Lucido
US (2009), 7:40
http://www.dashshaw.com/
THE HORROR OF DRACULA
Director: Dalibor Baric
Croatia (2010), 2:06
http://vimeo.com/user1479357
TRAVEL (aka THE TRIP)
Director: Kihachiro Kawamoto
Japan (1973), 12:16
http://www.midnighteye.com/interviews/kihachiro_kawamoto.shtml
HEAVEN
Director: Max Hattler
UK (2009),
http://www.maxhattler.com/