FLOATING WORLD COMICS PRESENTS:
ACHEWOOD CREATOR – CHRIS ONSTAD in store appearance!
NATE POWELL BOOK RELEASE PARTY – SWALLOW ME WHOLE
This October Floating World presents two in store appearances with two talented comic creators. On Thursday October 9th, Chris Onstad will appear to sign copies of his popular Achewood collection THE GREAT OUTDOOR FIGHT, published by Dark Horse Books. Then on Saturday October 25th, Nate Powell will be visiting as part of his new book tour for SWALLOW ME WHOLE, coming from Top Shelf in November. We'll have advance copies of SWALLOW ME WHOLE, which is already receiving high praise.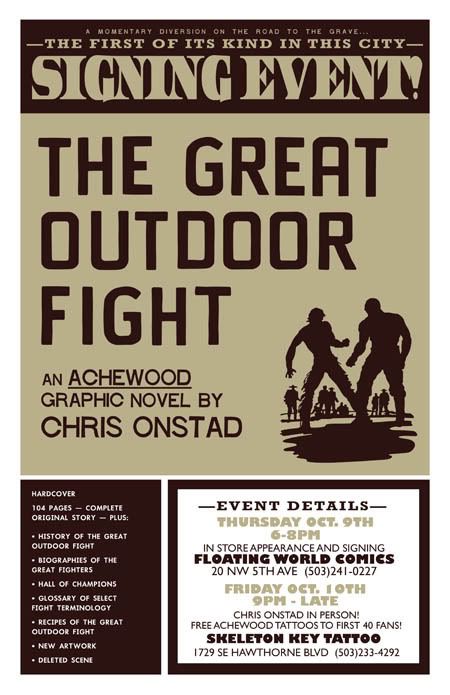 LISTING INFORMATION:
WHO: Chris Onstad
WHAT: THE GREAT OUTDOOR FIGHT book signing and artist reception
WHEN: Thursday, Oct. 9th, 6-8PM
WHO: Nate Powell
WHAT: SWALLOW ME WHOLE book release and slide show reading
WHEN: Saturday, Oct. 25th, 7-9PM

BIO INFORMATION:
CHRIS ONSTAD – Since 2001, cult comic favorite Achewood has built a six-figure international following. Intelligent, hilarious, and adult but not filthy, it's the strip you'll wish you'd discovered as an underappreciated fifteen-year-old.
Chris Onstad's online comic Achewood frequently spends weeks and even months on wildly disjointed storylines, but few have captured fans' imaginations as strongly as The Great Outdoor Fight, in which the comics' two lead cats, Ray and Roast Beef, set out to conquer a legendary underground brawl. (Its slogan: "3 Days, 3 Acres, 3,000 Men.") The collected The Great Outdoor Fight (Dark Horse) adds some additional fight mythology, plus an appendix and a glossary, but the main event is Onstad's often hilariously inexpressive art and deadpan surrealism, as well as the way he gets readers to care about the meaning and the lore surrounding The Fight just by having his own characters believe in it so strongly. As dark and rude as Achewood can be at times, what makes the strip so enduring is how much effort the characters put into understanding and respecting the rules of hanging out and being a dude. Well, that and dialogue along the lines of "He was like the Thomas Edison of handing a dude his ass…"
Praise for Achewood:
* TIME Magazine's #1 Graphic Novel of 2007.
"…one of the best outcomes of this Internet blitz is the hilarious Web comic Achewood, by Chris Onstad." – The New Yorker
"Onstad is our greatest living cartoonist." -Tony Millionaire (Maakies, Sock Monkey)
"These things are hilarious! You have what the NY Times Book Review might call a 'distinctive and most welcome voice' in comics." -Jim Woodring (Frank, Jim)
"Achewood makes me laugh–in that confused, 'what the hell was that??' kind of way." -Scott McCloud
http://www.achewood.com/
NATE POWELL – Powell is a 30-year-old Bloomington, Ind. vegan who operates a punk-record label and works full time with adults with developmental disabilities.
His most ambitious book to date, Swallow Me Whole is a love story carried by rolling fog, terminal illness, hallucination, apophenia, insect armies, secrets held, unshakeable faith, and the search for a master pattern to make sense of one's unraveling. Nate Powell quietly explores the dark corners of adolescence — not the clichéd melodramatic outbursts of rebellion, but the countless tiny moments of madness, the vague relief of medication, and mixed blessing of family ties. As the story unfolds, two stepsiblings hold together amidst schizophrenia, obsessive compulsive disorder, family breakdown, animal telepathy, misguided love, and the tiniest hope that everything will someday make sense.
Deliberately paced, delicately drawn, and drenched in shadows, Swallow Me Whole is a landmark achievement for Nate Powell and a suburban ghost story that will haunt readers long after its final pages.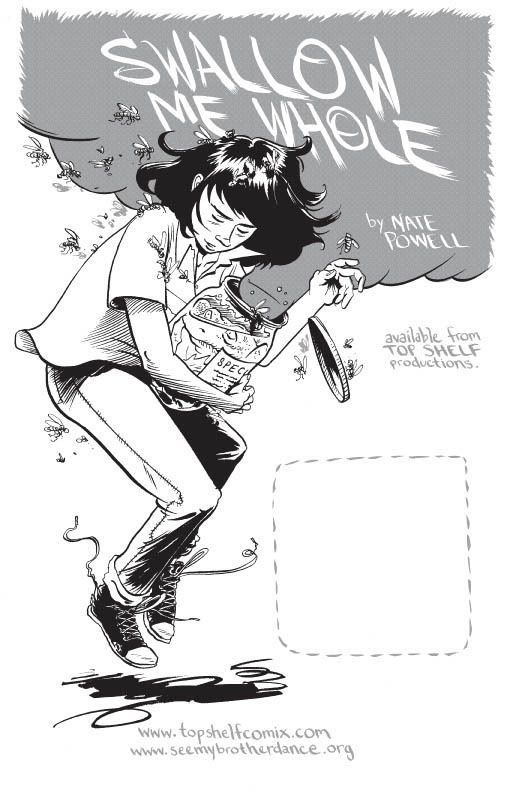 http://www.topshelfcomix.com/catalog.php?type=30&title=567
Floating World Comics
20 NW 5th Ave #101, Portland, OR 97209
(503)241-0227
jason@floatingworldcomics.com
Store hours: Everyday 11-7pm