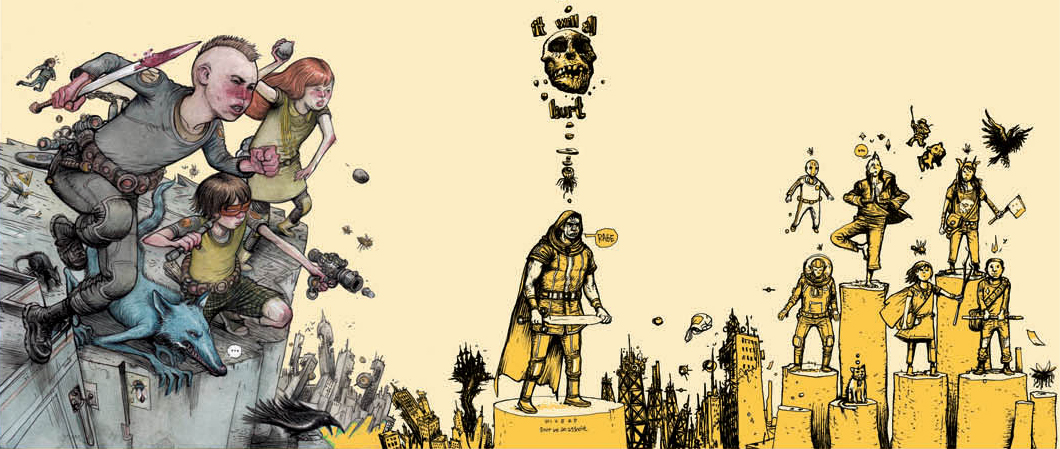 In 2014 I saw a continuation of the sales trends I've been tracking for the past couple years. Looking at net sales, the books that customers spent the most money on, we don't see a single Marvel or DC book in the Top 25.  In the #25 spot we have the bestselling Superhero comic of the year, COPRA Round One from Michel Fiffe and Bergen St. Press. Just a little further down is Marvel's top book of the year, Hawkeye.
Image just might be the top publisher of the year.  Fantagraphics and First Second also had strong years, thanks to singular works by new talents as well as eagerly anticipated graphic novels that fans have been waiting years for. Readers are following creators, not characters. Half the books on the list were created by an auteur, the writer was also the artist. Moebius, Miyazaki and Otomo keep appearing on the list even though some of these books came out two or three years ago. It's also encouraging to see five micro-publishers on the list: Lounak, Landfill/Famicom, Study Group, Space Face and Bergen St.
1. SAGA VOL. 3 TP (Image)
2. INCAL HC (Humanoids)
3. THE WRENCHIES (First Second)
4. FINAL INCAL DLX HC (Humanoids)
5. SECONDS (Ballantine)
6. MEGAHEX (Fantagraphics)
7. HOW TO BE HAPPY (Fantagraphics)
8. NAUSICAA OF THE VALLEY OF THE WIND BOX SET (Viz)
9. POSTERS OTOMO KATSUHIRO (PIE)
10. FORMING II (Nobrow)
11. BEAUTIFUL DARKNESS (D&Q)
12. THIS ONE SUMMER (First Second)
13. BY CHANCE OR PROVIDENCE (Lounak)
14. COMPLETE MULTIPLE WARHEADS (Image)
15. MOULD MAP 3 (Landfill Editions/Famicom Express)
16. BATTLING BOY VOL. 1 (First Second)
17. STRAY BULLETS UBER ALLES (Image)
18. MIKE MIGNOLA HELLBOY ARTIST EDITION (IDW)
19. ANT COLONY (D&Q)
20. SEX CRIMINALS VOL. 1 TP (Image)
21. THROUGH THE WOODS (McElderry)
22. BLACK IS THE COLOR (Fantagraphics)
23. STUDY GROUP MAGAZINE #3D (Study Group)
24. LIFE ZONE (Space Face)
25. COPRA ROUND ONE (Bergen St.)
Another way to gauge what books were popular is to ignore dollar amounts and just look the quantity that were sold. Now we start to see more individual issues on the list. It's no longer a surprise to me that the Saga trades sell more than the issues (and we sell a lot of the issues). Readers were happy to see the return of books by Neil Gaiman, Warren Ellis and David Lapham. Marvel Now's All New Now rebranding led to a number of hits, all of which can be attributed to the creative teams working on these titles. It's disappointing to see She-Hulk cancelled, one of their top selling books. The best selling Avengers book of the year was written and drawn by James Stokoe.
1. HOW TO TALK TO YOUR CAT ABOUT GUN SAFETY (Self published)
2. SAGA TP VOL. 3 (Image)
3. SANDMAN OVERTURE #2 (DC)
4. THE WRENCHIES (First Second)
5. SAGA #19 (Image)
6. MS MARVEL #1 (Marvel)
7. SECONDS GN (Ballantine)
8. SEX CRIMINALS TP VOL. 1 (Image)
9. MULTIVERSITY PAX AMERICANA #1 (DC)
10. MOON KNIGHT #1 (Marvel)
11. MEGAHEX HC (Fantagraphics)
12. TREES #1 (Image)
13. HOW TO BE HAPPY (Fantagraphics)
14. THOR #1 (Marvel)
15. INCAL HC (Humanoids)
16. LIFE ZONE (Space Face)
17. THIS ONE SUMMER (First Second)
18. O.M.W.A.T. TERROR ASSAULTER (Colour Code)
19. HAWKEYE #19 (Marvel)
20. JUPITERS LEGACY #4 (Image)
21. BATTLING BOY GN (First Second)
22. IT WILL ALL HURT #1 (Study Group)
23. DEATH OF WOLVERINE #1 (Marvel)
24. SILVER SURFER #1 (Marvel)
25. 100TH ANNIVERSARY SPECIAL AVENGERS #1 (Marvel)
Single issues are still my favorite. It's my favorite dose of comic, just the right amount of reading experience at any given time. I can see that books and trades are a big part of the market, but the constant flow of new comics every week keeps things fresh and it feels like the pulse that keeps the industry alive. Here's the bestselling saddle stitched comics of 2014.
1. SANDMAN OVERTURE #2 (DC)
2. IT WILL ALL HURT #1 (Study Group)
3. EPOXY #4 (Self published)
4. LOSE #6 (Koyama)
5. MULTIVERSITY PAX AMERICANA #1 (DC)
6. O.M.W.A.T. TERROR ASSAULTER (Colour Code)
7. SAGA #19 (Image)
8. DEATH OF WOLVERINE #1 (Marvel)
9. AMAZING SPIDER-MAN #1 (Marvel)
10. THOR #1 (Marvel)